Rupy has constantly ventured outside the transitional realm for artists in her genre. With a Masters in Public Health (MPH) she works with translational community-oriented projects in the region to form successful cross-platform collaborations.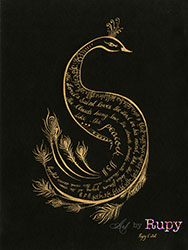 Rupy continues to receive further training in Calligraphy and Mughal Miniature painting from The Prince's School of Traditional Arts in London, England. Her work is a part of public and private collections in the United States and continues to be featured in various blogs and e-magazines in the US and abroad.
The work and spirit of these two artists, Jagdeep Singh and Rupy Tut, speaks to Sikhi's bright future in America. Their work breathes soul into the community. It is both inspired and inspiring. With these two rising stars in our sights, it appears that the outlook for Sikhi — as well as for Sikh American art — is very bright indeed.
11/7/2022 8:18:35 PM