Tony Rice is giant in bluegrass music, as famous for his innovative guitar picking as for his voice: clear and strong and high, like a bluegrass voice should be. If you want to know what this means, here's a taste: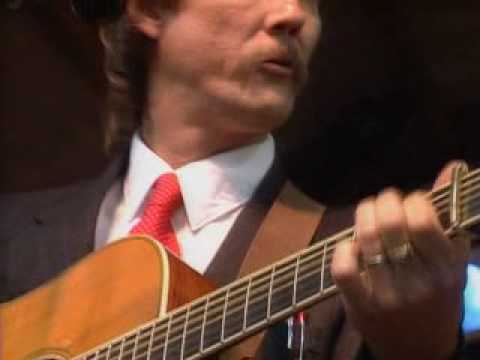 That's how it's done, folks.
Tony has been through tragedy, and 19 years ago his powerful voice faded to a whisper from muscle tension dysphonia: the same problem that took the voice of Alison Kraus recently.
Rice looks gaunt and fragile, and has withdrawn from the public eye. That's why no one was quite sure if he'd show up to be inducted into the International Bluegrass Music Association Hall of Fame. Show up he did, looking and sounding poorly, but what happened next astonished the audience. The New Yorker captures the moment:
He thanked everyone in a voice that sounded like that of someone with a terrible sore throat or one ruined from smoking. Now and then, a syllable fell away, and you heard only his breath. "There is a very dear friend of mine and singer that is having voice trouble right now," he continued. "A great human being, with a great soul, and a great talent, somebody I love beyond belief, is my dear friend Alison Krauss." He said that he woke up recently and "decided to try a few things with my voice, to see if anything at all could happen, even just a little stepping stone, toward restoration of the voice. And I tried a few things. And if my heavenly father is willing right now, I might be able to show you a little bit of what I've been working on."

The audience applauded. Rice held his right hand to his head and said, "This is not easy." He tapped his right temple. "It takes some brain power to get into this, so bear with me a second." He looked off into space and hummed softly. "But I want to," he said, and stopped, as if to collect himself. He began again, "Be able to tell Alison that now"—and he held his right hand to his chest—"I am speaking in my real voice." It was smooth and resonant and seemed to come from his chest instead of his throat. The change was as startling as a card trick. People began to applaud and cheer and some of them stood, as if in a congregation. Rice looked down, squinting. He said, "Thank you so very much. I'm giving it the best I got."
You can see it here at the 9:00 mark: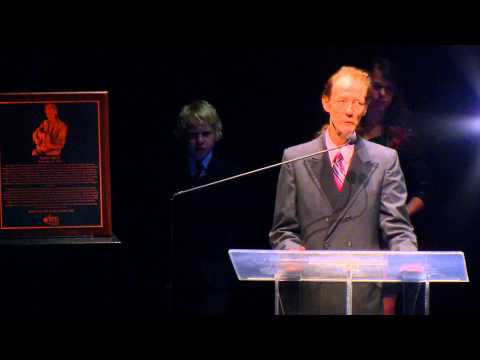 It's not just his determination to recover his gift after 19 years, or his desire to inspire a friend who is probably suffering doubt about the loss of her own gifts. It's his almost matter-of-fact yielding to the will of the heavenly Father. When the strong and gifted are robbed of their strength and gifts, they turn inward and question who they are and what has happened. It strikes at our self understanding.
When that person is a Christian, he will wonder how this can be the will of the Lord. His ability, as Rice says, to "express himself poetically through music" is gone, and so he must travel to a dark and lonely place. Compounding this for Rice was the loss of his brother and two stepchildren over the last ten years. Tony Rice has been through the dark night of the soul, and he's coming out the other side, yet he knows that his gifts are still not his own, but in the hands of God, who causes the rain to fall on the just and unjust alike.
As someone shouts out in a pause during his speech, "God bless you, Tony." Amen and amen.