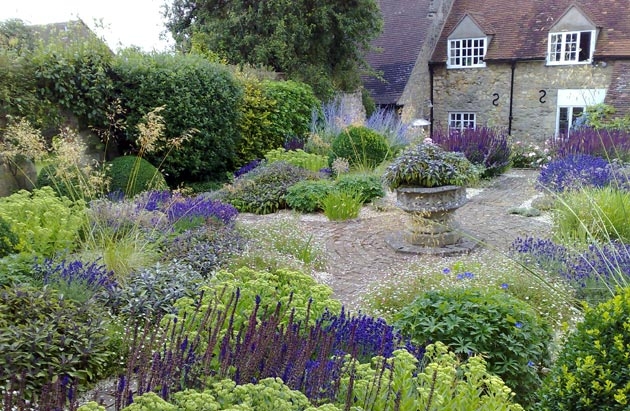 The Hallows season is here and our thoughts are turning inward. I've spent the summer focusing outward, on things I need to do and goals I want to accomplish. Yet when the leaves burn brilliant on the mountainside and woodsmoke scents the air, my thoughts naturally turn inward. It's time to take stock of our souls and examine our lives. What do we lack? How do we find balance?
This is something my priestess has been asking us all summer and I've listened but I haven't really put much effort into working out the answer. I've been so busy with things outside myself that I could not hear my body and spirit. Now the season is gently pushing me towards introspection and I find all the work and repairs needed on my body and soul. I see the areas that need pruning and the areas that need nourishment. I see projects abandoned that need to be taken up with vigor. I see where my health requires new routines and activities.
To some degree the summer is the fallow season of the soul. As the fields go to seed, turning crisply brown, we begin to turn over the earth of our souls. We plan out our soul-garden for the winter. We trim the hedges, line the rows, gather our seeds. What flowers will we see bloom in our hearts? What fragrant herbs? What sweet fruits? What hearty vegetables?
A lot of people tend to think they are a person of unchangeable habits. "That's just how I am." "That's just his personality." "I've always been like that." If you're discussing your preference for coffee over tea or the way you laugh loudly from your head to your toes, it's a perfectly normal thing. How many times have you heard someone insist that a personality fault, bad manners or destructive behavior is "just the way they are?"
Abdicating responsibility for your own soul is not the way of any Pagan religion. Every year we till the garden of our souls. We sow the qualities we need. We water and nurture the growth. We weed out bad habits. Letting your garden get overgrown is shameful. Letting it go too long may make it seem like bad habits are permanent, but that's just because you need to get out the weedwhacker, a bush hog and a tractor to clear your fields. Don't let it get so far gone. Tend the garden of your soul carefully and diligently. Rest easy in it's bloom. Taste the fruits of it's bounty. It's good for you.