The Triangle Freethought Society is a perfect example of a secular community doing their part to normalize non-belief in America.Perhaps I'm a little biased, because half of their upper echelon joined our event staff. That happened in October, when very few people took us seriously.
Our own local secular community, the Fort Bragg chapter of the Military Atheists & Secular Humanists (M*A*S*H) wants to emulate and maybe even piggy-back off the Triangle Freethought Society (TFS). TFS is just out of range to realistically handle Fort Bragg properly, but I attend and enjoy all of the great speakers they bring in! They are the driving force for activism that works in the area.
There is a real synergy going on in the North Carolina secular community. I think it might have to do with the overwhelming influence of Christianity in the area. The stronger the traditionalist grasp on an area, it seems the stronger the push back becomes. And it is our time to stand up and be recognized.
Many people from the northern states would experience quite a culture shock. Look at this video only a few miles outside of the gates of Fort Bragg. via Unreasonable Faith
httpv://www.youtube.com/watch?v=PK0gsqLtwFg&start=87
But check out what TFS is up to this month: a massive billboard campaign! I'm proud to see one of our members, Kim Ellington, being a loud and proud atheist on such a grand scale.
Via Hemant Mehta @ FriendlyAtheist (his article has many more great examples)
Last October, the Freedom From Religion Foundation went live with an atheist ad campaign featuring relatively unknown, local freethinkers from Madison, Wisconson.

I thought it was a strong campaign with beautifully-designed billboards.

Now, they're doing it again in Raleigh, North Carolina. This time, 12 billboards will go up on behalf of theTriangle Freethought Society. They went up today and they'll be there through the end of April (PDF).

Here are the new designs: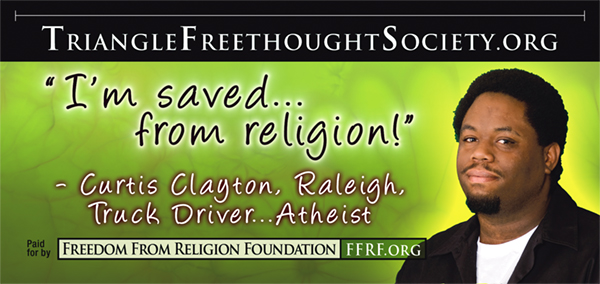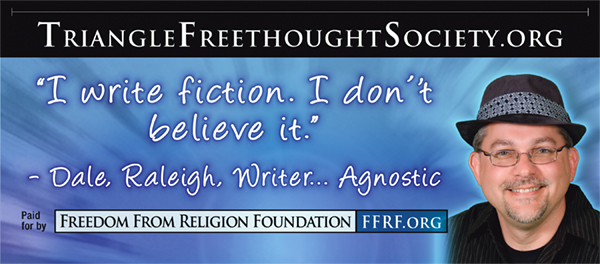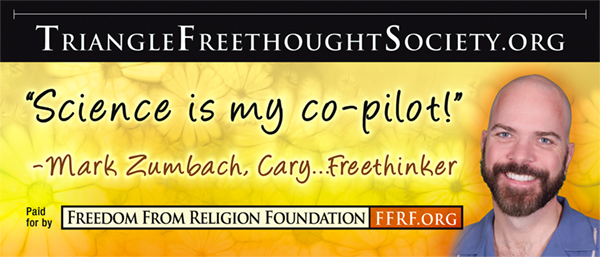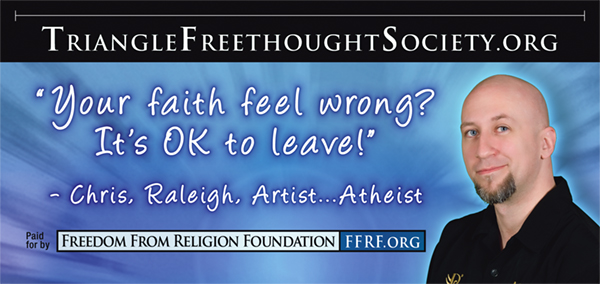 "It worked for the gay rights movement. It's time for atheists and agnostics to come out of our closet," says Annie Laurie Gaylor, who co-directs FFRF with Dan Barker. "Many faces make enlightenment work. We know many people in North Carolina have never knowingly met an atheist or unbeliever, much less someone who is proud to advertise their nonbelief. We are so proud of our North Carolina members and participants."

…

"We are grateful to the Triangle Freethought Society and our members for coming 'out of the closet' and participating in this campaign, and particularly wish to single out Amy Glenn [RBB Edit: Hi Amy! You rock!], who coordinated this amazing project so adroitly," said Barker.
Well done, Triangle Freethought Society.