I've previously posted about the strange proselytism that John Kieffer endured at Fort Bragg in the 1970's. Mandatory 'born again' day, he called it. Sounds familiar.
Well, John is driving back up to Fort Bragg for Saturday's groundbreaking atheist festival. But he has one thing to do before he can be on his way. He has to go to court on Friday for another hearing for… not praying at a Polk County, FL school board meeting.
Atheist of Florida President John Kieffer was arrested on charges related to his nonparticipation in a Christian prayer ritual conducted BEFORE a Polk County School Board meeting was called to order. His next court date is tomorrow, and the prosecutors have something sneaky up their sleeves. Rather than the defense filing it, the prosecutors are requesting a motion to get certain evidence suppressed from the official trial.
Probably this evidence:
This is what he was arrested for. Taking pictures during the prayer (which they started doing before the session was called to order, so as not to be sued. Sneaky tactics seem quite common here.)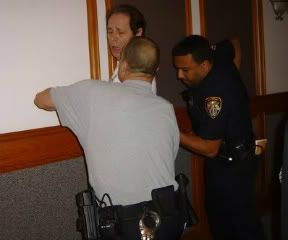 'Highlights' from the article:
John faces up to 1 year and 4 months in prison if convicted on all the charges. His trial is set for April 23-26, 2012.

Clerk of Courts, Polk County wrote:

FL Statute … Description

—

843.02 … RESISTING/OBSTRUCTING OFFICER W/OUT VIOLENCE (1st degree misdemeanor; $1000 max. fine; term of imprisonment not exceeding 1 year)

877.03 … DISORDERLY CONDUCT (2nd degree misdemeanor; $500 max. fine; term of imprisonment not exceeding 60 days)

871.01 … DISTURBING SCHOOL, RELIGIOUS, OR LAWFUL ASSEMBLY* (2nd degree misdemeanor; $500 max. fine; term of imprisonment not exceeding 60 days)

—

* FL Statute 871.01 states: "Whoever willfully interrupts or disturbs any school or any assembly of people met for the worship of God or for any lawful purpose commits a misdemeanor of the second degree."
I'm excited to shake this hero's hand on Saturday. Please come out to Fort Bragg, foxhole atheists are fighting for your rights, sometimes well into retirement. Come stand with us at Fort Bragg's atheist festival – the first time atheists will be allowed to meet on post. Civilians are welcome, and bring the kids – camp quest has some awesome stuff planned.
John is not the only amazing activist veteran that will be in attendance. Stephen Hewitt, the atheist veteran from King, NC receives regular death threats from people in his hometown. Why? Because he didn't want the Christian flag flown over the public memorial for veterans (like him).