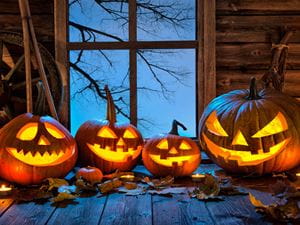 Shutterstock.com
Every October, Christians begin debating whether or not they should take part in the Halloween celebrations and traditions that come crawling out of the woodwork as soon as the calendar flips over to October. Many Christians happily set up haunted houses, take their children trick-or-treating, and host a house full of teenagers who cluster around the TV to watch scary movies. Other Christians, however, claim that Halloween is demonic, Satanic, and a way of opening the door to all sorts of hellish horrors. The history of "Halloween," however, has Christian roots.
Halloween is a popularized version of "All Hallows' Eve" or "All Saints' Eve" and refers to the night before the Christian Feast of All Saints. This feast began centuries ago and was meant to recognize and celebrate all the Christian martyrs and saints who had already died. This feast day is always 1 November, which makes "All Hallows' Eve" on 31 October—Halloween. All Saints' Day overlaps with the Mexican holiday of Día de los Muertos, or Day of the Dead, a two-day festival meant to remember loved ones who have passed, but the two events have different purposes and traditions.
All Saints' Eve and Day overlap with another holiday as well, the ancient pagan holiday of Samhain. This, however, was likely a deliberate choice by early Christians who often overlaid a Christian holiday on a pagan one in order to supplant it with Christian worship. Contemporary pagans of various traditions still celebrate Samhain, beginning on 31 October and continuing through 1 November.
While the pagan associations of Halloween are the focus of modern Christian concerns, All Saints' Day was originally discouraged by early Protestants who loathed its association with Catholic saints and the Catholic calendar. In fact, many people during the Reformation period were completely unaware there was any pagan significance to a celebration taking place in late October. They were more interested in outlawing Catholic practices.
No one knows exactly when or why Halloween was associated with the demonic or re-associated with paganism. Most of what Christians associate with Halloween are long-standing practices that have nothing to do with either paganism or demons. Dressing up in costumes dates to early All Saints' Day traditions, and early Americans celebrated by putting on "play parties," dancing, and singing.
Superstition has always been associated with Halloween, but there is a long history of Christians being encouraged to celebrate Halloween in a Christian fashion. Rather than leaving out food to appease angry spirits, Christians were encouraged to give food to hungry neighbors. In fact, trick-or-treating is believed to have been born out of the practice of "soul cakes" and "going a-souling." On All Hallows' Eve, poor citizens would go door to door begging for food, and families would give them special pastries called "soul cakes" in return for the person's promise to pray for dead loved ones.
Modern Halloween celebrations often focus on vampires, witches, and other supernatural creatures. There is, however, no reason that Christians cannot have their own Halloween parties that instead emphasize All Saints' Day and feature stories about why one should never make deals with the Devil.
You can read more about the Catholic sacred calendar and All Saints' Day here.
3/23/2021 6:32:40 PM