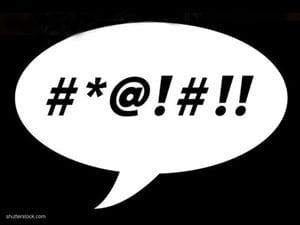 Most of what people today would consider swear words would not have been considered such in biblical times. Many of the modern words that are considered unacceptable today originated as ordinary terms that were first used to describe specific actions, bodily functions, or things in nature but which have since become derogatory terms.
From a biblical standpoint, the goal is a wholistic understanding of speech and action that lend themselves to holiness and kindness. Jesus pointed out to his disciples that the heart is the source of evil words and deeds, so foul language makes visible what is really in a person (Matthew 15.18-19). Paul wrote to the Christian community that God's holy people should never give themselves to "obscenity, foolish talk or coarse joking, which are out of place" (Ephesians 5.4). Christian faith is incompatible with dirty jokes, obscene talk or gestures, vulgarity, rudeness, and crude humor. In this light, the contemporary terms we call cuss words or swearing would be inappropriate for Christians.
The Bible explicitly forbids, however, taking God's name in vain. The Ten Commandments are clear: "You shall not misuse the name of the Lord your God, for the Lord will not hold anyone guiltless who misuses his name" (Deuteronomy 5.11). Misuse of God's name is considered blasphemy, a flagrant disregard for God's holiness and integrity. According to the Bible, the name of God itself brings into human consciousness the fullness of God's presence and power. It is the representation of his being (Psalm 138.2). Those who are called by God's name (Isaiah 43.7; James 2.7) are expected to reflect God's character and to represent his presence.
One way of misusing God's name was to swear falsely under oath; using God's name as a guarantee of one's own veracity or reliability while in actuality cheating or lying or failing to keep a promise brought God's name into disrepute. Clearly, cursing or reviling God's name would also be blasphemous. The prophets condemned the Israelites who would "take oaths in the name of the Lord and invoke the God of Israel—but not in truth or righteousness—you who call yourselves citizens of the holy city and rely on the God is Israel—the Lord Almighty is his name" (Isaiah 48.1-2).
Christians extend this guideline about the name of God to Jesus, God's Son, and to the Holy Spirit. For them, the casual and caustic use of Jesus Christ as a swear word is disrespectful to God.
There are many names of God in the Bible, but only one by which he describes himself: Yahweh (Exodus 3.13-14). Because this sacred name is especially holy, Jews began to avoid using it in speech and in writing, substituting titles like "the Lord" or "Hashem" (which means the Name).
Read more about Judaism's beliefs about the nature of God here.
3/23/2021 6:32:39 PM