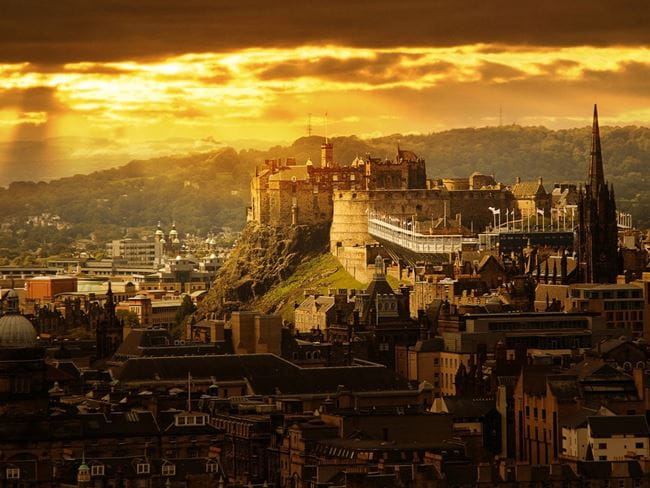 Shutterstock.com
Well, I'm back from a fabulous break in Scotland. It's always nice to get away, but lest you should think I neglected my spirituality, rest assured I threw myself into the sacramental scene while out of town. I return with great enlightenment, and you're in luck because I'm in a sharing mood. So, then, listen well…
This is a faithful saying, to quote St. Paul: when you're in bonnie Scotland, and you're after a stiff libation, you have to go Presbyterian. There. That's my wisdom. Seriously, the contents of a Scottish Episcopal chalice are weak as rice water. Jus de Church of Scotland is the real deal. Stick with me, kiddos. Uncle Matt'll steer you right!
In all, I stayed three nights in Edinburgh, with a different venue for Communion every morning. (Yes, I do know how to live it up.) And so, consider this light-hearted article your not-so-complete roster of Episcopal parishes in the city. Let's find you somewhere to worship when you're in Lothian's Big Smoke.
St. Mary's Episcopal Cathedral, Palmerston Place
First up was the Bishop of Edinburgh's episcopal seat. Prepare to feel small as you stand in the nave of such an enormous building. You could spend a day just exploring all its nooks and crannies. (It occurred to me, when writing this, that one doesn't explore only the nooks or only the crannies of anything; it always has to be both, doesn't it?)
As with any cathedral, the colossal edifice was divided into side chapels, which are basically mini churches. But in St. Mary's, there were so many subsections to wander through that I thought I'd ended up in a Cadbury's chocolate selection box. Ah well… the navigational challenge added to the fun, I suppose.
In this ecclesiastic labyrinth's heart stood the high altar. There were three stained-glass windows behind it, all packed with detail. They stood side by side in a towering triptych.
Anyone would think some glassworker – perhaps after too generous a gulp from a Presbyterian chalice? – had sealed a spicy wager: to see whether he could squash every scene from the Bible into 600 square feet or fewer. I'd say he very nearly succeeded!
The main altarpiece is a crucifixion scene, a reminder that our sacrifice in the Mass is the same sacrifice completed once and for all by Jesus Christ. It's a common error that in the Mass we crucify Christ all over again, but it isn't so. This altarpiece is a statement of our true beliefs.
Weekday Communion takes place in the Lady Chapel at St. Mary's, found in a snug little corner to the rear with an icon of Our Lady perched on the miniature altar. The priest emerged from behind a curtain in his regalia, like some Anglican Wizard of Oz, before lighting a few candles.
When you get a priest with an English accent, you can be sure of one thing: there will be long pauses inserted at random points in the liturgy, mid-sentence or nay. 'Give thanks to our gracious God…' [insert silence long enough to leave, walk the Royal Mile, argue for the Union in the Scottish Parliament, and come back again] '…whose mercy endures for ever.'
I was astounded at how similar the liturgy was to that used back home in the Church of Ireland. Then again, I'm not sure what else I had expected. All Anglican worship draws, after all, from the same source: Thomas Cranmer's original 1549 Book of Common Prayer and its descendants.
When the time came to receive the Sacrament, we squeezed up along the rails. I can only describe the Communion wine as amber-coloured water in its consistency. Still, the fruit of the vine's the fruit of the vine. There was plentiful grace – if little alcohol – in the cup, I'm sure.
St. John the Evangelist, Princes Street
Prominently located on the corner of Lothian Road and Princes Street, St. John's proudly flies the Ukrainian flag for all Edinburgh to see: the de facto symbol of liberal democracy since February.
They're a progressive-minded congregation, with a whole Climate & Creation section on their website and a Fairtrade shop, One World, in the church's undercroft. Overall, this gave it a metropolitan Anglo-Catholic vibe.
I came in from the rain and was greeted with a bright and airy worship environment with pristine plaster layered on the sanctuary columns and walls. Elegant chandeliers, those classy metal ones with pure white LEDs, hung from tall arches that flanked the nave.
Saltire blue was the dominant colour in the stained glass, which made the place feel almost regal, and very Scottish! A lectern cast in the shape of a spread eagle – associated with St. John, the parish's namesake – stood off to the right with a lovingly crafted flower arrangement in front.
Naturally, the high altar here was less decorous than the one at St. Mary's. There was a scruffy charm in it, and that isn't a bad thing in a high altar. When they're too glitzy, they just end up looking like slot machines, as if a Communion wafer drops out when you line up three sevens.
Moving clockwise to the baptistry, someone had installed a playpen around the font with all manner of activities for young kids, from foam jigsaw puzzle shapes to colouring-in sheets. There was a laminated sign beside this whole setup, which read: 'God put the wiggle in children, so don't feel you have to supress it in God's house.' Indeed.
From the richly detailed ceiling in the nave hung an empty cross. At each of its four points, this cross had elaborate wheel shapes, which resembled the Dharma Chakra from Buddhism. It was as though some fifty-foot yoga master had hung his jewellery from the rafters and was coming back to get it later.
Communion here, celebrated on a simple wooden table, followed the 1982 Scottish Liturgy. Sadly, there wasn't any wine as the Sacrament was in one kind only. We did receive an anointing for our ailments, which I could smell until I washed my face before bed that night. It was nice to participate in a sacrament other than the Holy Mysteries for a wee change.
St. Vincent's Chapel, St Vincent Street
I found this endearing yet unassuming little church in the New Town. It was nice, but I do have one small issue: the parish interior had a funeral parlour atmosphere about it. I think it was the green carpet. When we went into the chapel for the service, I half expected an open casket in the corner and someone to tell me sorry for my loss.
Mortuary feel aside, St. Vincent's had a strong sense of history. Generations who worshipped here were anxious to chronicle their lives and times through the fixtures and fittings. That's not unusual of an Anglican church, I'll grant you. Many's the parish where you'd struggle to find any furniture without someone's donation plaque on it.
Yes, it was quite the museum, this place. On the ceiling in the chancel there were Scots clan shields, all painted on wooden panels, and stained-glass windows with nods to past events. I came away, too, with reason to believe that history still gets made in St. Vincent's; the congregation seems alive and thriving!
Depicted in stained glass behind the high altar was a generic scene wherein Our Lord – wearing every Northern Irish Protestant's favourite colour scheme: red, white and blue! – is teaching the crowds. Inscribed along the bottom were the words Matthew records in his Gospel, 'Except ye be converted, and become as little children, ye shall not enter into the kingdom of heaven' (18.3).
Well, that's the facilities covered. On to the worship, which was the 1929 Scottish Communion Office. All the readings, much to my pleasant surprise, were taken from the King James Bible. I'm keen on the good ol' KJV, but I hadn't expected to hear it read in a liberal-thinking parish.
You see, the King James is favoured in Free Presbyterian circles back in Ulster. Here's an analogy for my transatlantic readers: to the same degree the Free P's have campaigned for social change, has Trump advocated more immigration to the United States from the Muslim world.
Now to the main event, and I have to say the wine was noticeably stronger than in St. Mary's. Just. I'd liken the difference in strength to the contrast in alcohol content between water and, say, fruit juice.
We stood in a circle, all half a dozen of us, while the vicar distributed the gifts. After a moment's quiet reflection, we wrapped up with a benediction and went on our merry way. This was quite an intimate Eucharist and a fine way to round off a super trip!
12/16/2022 6:55:54 AM