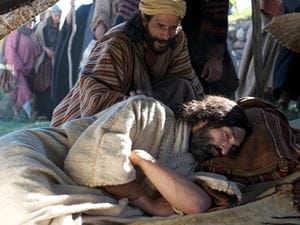 Lightstock
"Did Jesus ever get sick?" I asked my three boys on our drive to church one Sunday, "Did his mother, Mary, ever keep him home from synagogue because he had a fever? Did he ever catch a cold from the neighborhood kids?"
And the resounding answer from the back seat was, "No! Of course not!"
"Why not?" I questioned.
"Because Jesus is holy," they answered, "He's God himself."
"Remember though that Jesus was also a man. The Bible says he got hungry and thirsty. He got tired. He was even able to die."
"But Jesus never sinned," they insisted, "So, how could he get sick?"
"True, Jesus never sinned. Yet sickness is not the result of personal sin, but the result of Adam's sin."
And all the brothers said in unison, "That's not fair."
So, I ask you the same question: "Did Jesus ever get sick?" The Bible does not record that he did. In fact, whenever Jesus touched the sick or leprous, instead of them contaminating him, he "infected" them with his own cleanness (Luke 5:12-15; 17:11-19). He felt his robe touched by a woman who had been hemorrhaging blood for twelve years (Matt 9:20-22; Luke 8:43-48). No doctor could heal her and no medicine had helped, so Jesus should have been unclean by the Levitical law. But instead, the woman was healed as she touched the fringe of his garments.
If Jesus felt a cold coming on (or the nasty flu that was going around) did he zap himself with healing power? "Great Physician, heal thyself" (Luke 4:23). Was he the only little boy who never had to wash his hands because of germs? Some scholars say, "Jesus never got sick." They claim he had a perfect human body like Adam and Eve before the Fall. In fact, Jesus would not have even suffered and died unless he submitted himself to death. His genetics were uncorrupted since he had never sinned and he was not born of a human father to tie him back to Adam's sin (Luke 1:26-35). Surely, he suffered human weakness like hunger and thirst and tiredness, but he did not need to suffer illness.
Although he did not need to suffer, I like to think that Jesus chose to suffer illness. After all, he possessed a human body and was "one who in every respect has been tempted as we are, yet without sin" (Heb 4:15b). Jesus also eventually suffered the final human weakness by his death on our behalf. So, if he submitted his perfect human body to an earthly death, then certainly he could submit his body to sickness, yet without sin. As Thomas Schreiner writes, "The Son did not merely resemble human flesh but participated fully in sinful flesh. This does not mean that the Son himself sinned … but that he participated fully in the old age of the flesh, and that his body was not immune to the powers of the old age: sickness and death." Our sinless Savior could have lived a life without sickness—a life without death, but in humility he submitted himself to human weakness (Phil 2:6-8). And by his death, Jesus conquered death (1 Cor 15:54-56; 2 Tim 1:10). By his death, he conquered sickness: "This was to fulfill what was spoken by the prophet Isaiah: 'He took our illnesses and bore our diseases'" (Matt 8:17; see Isa 53:4; 1 Cor 15:42).
Application Insight: Jesus willingly chose to suffer sickness and death, yet without sin. He entered into the suffering of humankind to not simply become your Savior and Lord, but also your example of living righteously in a fallen world (1 Pet 2:21-25). His resurrection reminds you that one day sickness and death will be no more.
Thus, even your human weakness directs your heart to worship him.
David Murray, "Was Jesus Ever Ill?" HeadHeartHand (blog), May 15, 2017, accessed August 10, 2018, http://headhearthand.org/blog/2017/05/15/was-jesus-ever-ill.
3/1/2023 4:57:29 AM