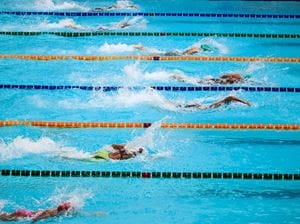 Pexels
Jesus demonstrates how to say "No" to busyness through his life and ministry. Yet as we recognize the fruit of busyness in our own lives, we might dig deeper to find a heart of pride is at the root.
Last time, we stated the problem. Let us now learn from Jesus four practical principles for maintaining the right focus in a world of demands.
Stay in Your Lane (Luke 10:1-37)
The first principle Jesus teaches is to stay in your lane. Such wisdom applies not only to swimmers and commuters, but also to busy people trying to establish boundaries in life.
In Luke 10, Jesus was busy doing ministry. He appointed seventy-two disciples to go out into the towns and villages to prepare the people for his coming (vv. 1-20). He spent time praying to his Father (vv. 21-22) and counseling his disciples privately (vv. 23-24).
When cross-examined by a religious lawyer, he defended himself with Scripture (vv. 25-28) and told the timeless tale of the Good Samaritan to teach the crowd what it meant to love one's neighbor (vv. 29-37).
Jesus was busy in ministry, yet he also stayed in his lane.
He sent out disciples instead of going to every city himself. He knew his own human weaknesses, so he prayed in the Spirit's power for his Father's strength. He taught the crowd how each person was to personally love his neighbor instead of simply sending their neighbors to hear the rabbi from Nazareth.
Jesus then retired to the home of his friends: Martha, Mary, and Lazarus (v. 38). Even the Savior of the world did not attempt to do everything.
Steven Covey explains in 7 Habits of Highly Effective People about the circle of influence and the circle of concern. We can directly influence certain factors in life: We can get an education or find a job. We can love our kids and exercise regularly. We can choose to be courageous instead of fearful or at peace instead of angry.
Yet we cannot change other factors of concern: the weather; the economy; elected officials (until the next term); other people's choices and reactions. The key to happiness is spending more time and energy in the circle of influence instead of the circle of concern. Covey, perhaps unknowingly, borrowed this principle from Jesus: "Do not be anxious about your life" (Matthew 6:25a).
Application Insight: You cannot change certain things in life no matter how much you are concerned: "Which of you by being anxious can add a single hour to his span of life?" (Matthew 6:27). You cannot change tomorrow by worrying about it today: "Therefore do not be anxious about tomorrow, for tomorrow will be anxious for itself.
Sufficient for the day is its own trouble" (v. 34). You are not the one who makes the world go round (see Hebrews 1:3), so focus on the things over which you do exert some influence.
Work hard at your job, but trust the Lord to provide food and clothing. Learn about God's providence by observing the birds of the air and the flowers of the field (Matthew 6:26, 28-30). Pay your mortgage, but trust the Lord to keep a roof above your head. Exercise and eat well, but trust the Lord for every hour of life he grants.
Stay in your lane.
Jesus instructed his disciples to pack light for their journey: "Carry no moneybag, no knapsack, no sandals, and greet no one on the road" (Luke 10:4). Relying on hospitality in every town they visited (vv. 5-8), they ministered in Jesus' name but departed from any who rejected their Master (vv. 9-16).
Jesus essentially taught them: "Don't try to do more than you are called to do. Stay in your lane and trust your Heavenly Father to care for you."
Notice also that the Good Samaritan in Jesus' parable did not start a rescue mission for waylaid travelers along the road to Jericho (v. 30). He did not march in protest against the religious institution because the priest and the Levite had failed to show compassion (vv. 31-32).
The Good Samaritan was only responsible to care for the one wounded man he encountered on the road before him (vv. 33-35). He stayed in his lane and ministered effectively (vv. 36-37a).
Application Insight: You were not called to save the whole world, but to love your neighbor and to care for the wounded among you (vv. 29, 37b). You will be swamped by busyness if you take on responsibilities and concerns which are not your own. Stay in your lane and you will minister more effectively.
During a recent sabbatical, I disciplined myself to stop worrying about ministry. The church remained in my prayers, but not in my constant thoughts. I had to work hard to prepare the church for my absence, but even harder to rid my heart of anxiety because, for three months, the church was beyond my circle of influence.
Another time when fires threatened our home, many church members called to ask if we were safe. Our family was very grateful for their prayers and concerns, yet we recognized that the fires were out of our control.
We could neither stop the winds nor summon the rain. We were not in charge of dispatching firefighters or water-dropping choppers. We had no way of directing each flying ember or deciding which houses should be evacuated. So we prayed and trusted God as we sheltered in our home.
Likewise, the missionary to China, Hudson Taylor, endured the Boxer Rebellion (1900-1901) even though a certain group of radicals were destroying mission stations and killing missionaries. As one report followed another, Taylor sat quietly at his desk, singing softly the words to his favorite hymn: "Jesus, I am resting, resting in the joy of what thou art; I am finding out the greatness of thy loving heart."
Application Insight: Think about your most common worries and stressors. Are they matters you can influence or problems over which you have no control? Do not let "the cares of the world" choke out God's Word from your heart.
Stay in your lane and trust God to care for the rest.
10/23/2021 3:27:32 PM