"But he's grouchy and unkind!"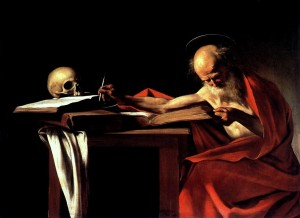 If you went around trying to get everyone who was grouchy and unkind fired from their jobs writing about the Catholic faith, you wouldn't have the Vulgate. St Jerome was a notorious curmudgeon. The Prophet Jeremiah (as mentioned above) was no pushover either. Frankly, if you want to only read (or be exposed to) authors who never use harsh rhetoric when proclaiming truth to people entrenched in a distorted picture of the faith, then you should avoid reading the Gospels and Epistles. Jesus was known to call people white-washed tombs, dogs, vipers, and even to use premeditated violent resistance when people used religion to justify economic oppression. Whatever 1970's flannel-graph picture you have in your head of Christ, the real man was a bit more brash. In the gospel on August 14th we read:
Jesus said to his disciples:
"I have come to set the earth on fire,
and how I wish it were already blazing!
There is a baptism with which I must be baptized,
and how great is my anguish until it is accomplished!
Do you think that I have come to establish peace on the earth?
No, I tell you, but rather division.
From now on a household of five will be divided,
three against two and two against three;
a father will be divided against his son
and a son against his father,
a mother against her daughter
and a daughter against her mother,
a mother-in-law against her daughter-in-law
and a daughter-in-law against her mother-in-law."
—LK 12:49-53
Yes, there is a time to speak in measured tones and with dispassionate reason. This is especially true when speaking with those who are outside the Church. We should not expect that a non-Catholic is going to adhere to Catholic values and principles. When we disagree with such a person, we should be calm, measured, and reasoned in our language.
But there is also a time for the prophet to come into our midst and shake things up a bit. Why? Because one day there will be an accounting. One day God will look at us and ask the question if we followed His Son and the Church he established. One day we will all be measured, not by how often we attended mass, or preached, or evangelized, but by whether we held to the whole council of doctrine. We who are in the Church cannot play naive. We have the magisterium of the Church to guide us, and we have cattle-prods like Mark Shea to afflict us when we try to divide doctrine against itself.
What will you say when you are in the place of this past Sunday's Gospel?
Jesus passed through towns and villages,
teaching as he went and making his way to Jerusalem.
Someone asked him,
"Lord, will only a few people be saved?"
He answered them,
"Strive to enter through the narrow gate,
for many, I tell you, will attempt to enter
but will not be strong enough.
After the master of the house has arisen and locked the door,
then will you stand outside knocking and saying,
'Lord, open the door for us.'
He will say to you in reply,
'I do not know where you are from.
And you will say,
'We ate and drank in your company and you taught in our streets.'
Then he will say to you,
'I do not know where you are from.
Depart from me, all you evildoers!'
And there will be wailing and grinding of teeth
when you see Abraham, Isaac, and Jacob
and all the prophets in the kingdom of God
and you yourselves cast out.
And people will come from the east and the west
and from the north and the south
and will recline at table in the kingdom of God.


For behold, some are last who will be first,
and some are first who will be last."
—LK 13:22-30
If The Shoe Doesn't Fit