As the latest addition to the Patheos team, I feel compelled to embrace what has become an almost obligatory opening line among coders and bloggers for decades. That is, to accept the pre-loaded placeholder and offer an opening greeting of, "Hello World."
Unfortunately, by writing under a pen name, such an opening salutation may appear slightly disingenuous to some while downright cowardly, deceptive, or hypocritical to others. Be that as it may, I find myself in good company, crammed into the closet of necessary anonymity with the countless kids, employees, spouses, and even pastors who are unable to say three simple words in public, "I don't believe."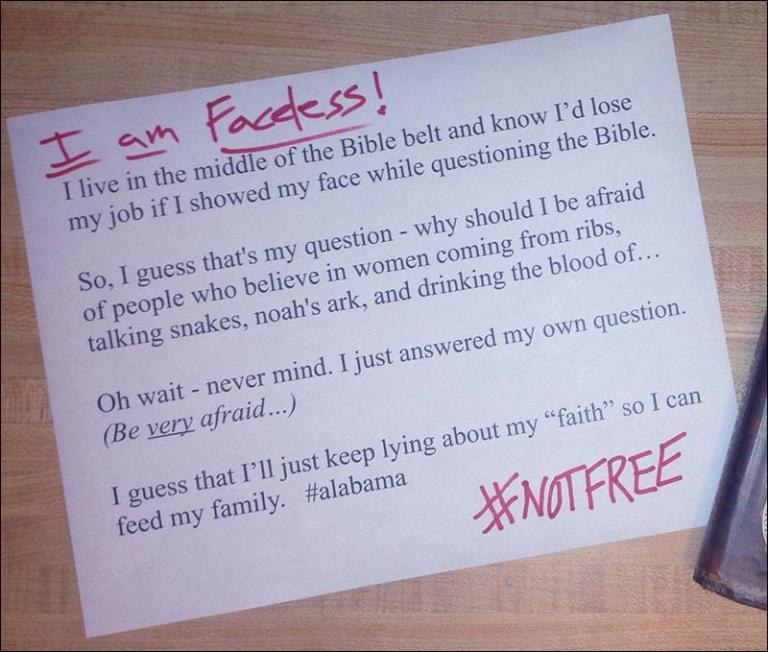 While I may appear to be very outspoken about my thoughts and feelings on faith, the fact is, just like the person who sent the image above, due to the nature of my family, friends, and occupation, even in 2016 I have to be extremely careful about choosing with whom I can just be… honest. As a result, many of the conversations I hope to have here will be related to this intersection of faith and culture in our society. Not from a position of condescension, but from a perspective of understanding (having been firmly on both sides of the fence), doing my best to offer what often appears to be missing from discussions between those of differing faiths… compassion. In short, I come bearing hugs, not hate. Why? Because condescension does nothing to reach those who came to religion looking for a sense of community, acceptance, and love. Because, at the end of the day, regardless of how misanthropic I can appear, I just can't help loving my neighbor.
As many know, I spent the better part of my life as a ministry leader, a career Christian, a man of the cloth (money is made of cotton). As a result, folks are naturally curious what would lead me to create the Awkward Moments (Not Found In Your Average) Children's Bible series of books for adults where we illustrate a few of the lesser-known Bible passages in order to openly discuss what very few practicing Christians know about the Good Book, the history of Christianity, and the impact on culture today.
Why do I do it? In a modern American society that is largely controlled by the religious majority's stances on justice and morality, it is more than a little troubling to find that over 50% of professing Christians can't even name the Gospels, the first four books of the New Testament, the very foundations of Christianity! To help combat this problem of Biblical literacy, I developed a little series of "shocking" books (using actual Bible passages), hoping to encourage adults to think critically about stories they likely last heard as children, as sculpted for… children.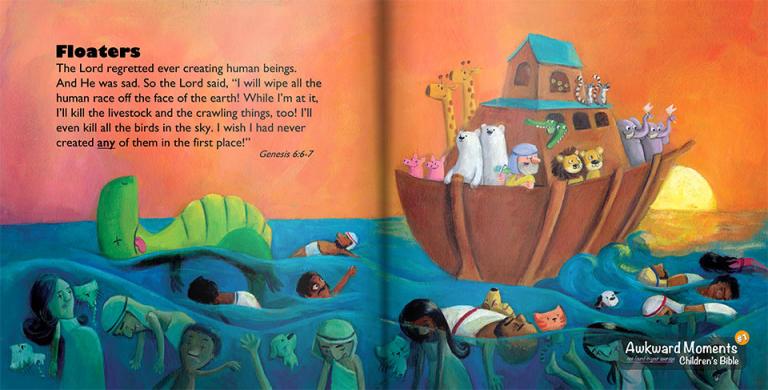 I am often asked why I chose a pen name as cryptic as Horus Gilgamesh. Simply put, Mithra Dionysus and Adonis Zora were already taken. In truth, there is no significant meaning to the name beyond a subtle tongue-in-cheek nod in recognition to the myriad of gods, myths, and monsters that came to rest in history's graves long before the latest action figures found themselves at the center of mankind's latest attempts at explaining the unknown. (Actually, I would have chosen Jesus Hubbard, Krishna Smith, or Muhammad Buddha, but it appears that these all-powerful gods and prophets are still enjoying the protection of those who, ironically, need the protecting.)
I've been called a lot of fun names since I started thinking and speaking for myself – false teacher, militant atheist, satanic blasphemer, antichrist terrorist, hate-filled activist, libtard fag-lover, and… my favorite; a heretic.
Heretic? Intended as caustic label to diminish and demean, I've come to embrace the intended insult as a badge of honor, choosing it as the namesake for this blog. Heretic, from the greek 'hairetikos' – yes, I am 'able to choose.'
With that said, I am thrilled to join the Patheos community and look forward to many challenging and fruitful discussions to come between those of all walks of life! I'm honored to join the likes of Friendly Atheist, Danthropology, Progressive Secular Humanist, Godless In Dixie and so many great voices in the wilderness. Stay tuned as I'll do my best to share new content from the perspective of a man who was once a sinner saved by grace, now a heretic, redeemed by reason.

- Horus Gilgamesh