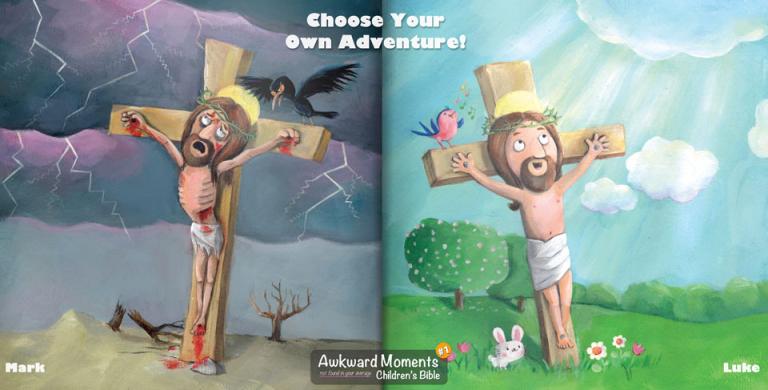 What did the Bible say about Jesus? It depends. Most believers tend to combine, or "mix and match" different verses from different gospels (which were written by different authors at different times for different audiences) to come up with their own Super Gospel – a completely new account of events that defy all laws of logic, time, and space. This is called HARMONIZATION – a fancy word for… blasphemy!
Each author of the Gospels was writing their own Gospel – their second-hand accounts of the life and times of Jesus, as told through their own interpretations of stories they were told, intended for their own audiences. Of course they'll all see things a little differently, just like eyewitnesses to a crime – everybody has their own view of what happened. So, who is right? What is the truth?
Obviously, we know that the Bible is full of thousands of contradictions and discrepancies – some are tiny; some are enormous. In "The Passion" narratives, Matthew, Mark, Luke and John all have very different accounts of the last hours of Jesus' life and his resurrection from the grave. However, to be clear – we aren't talking about the little differences – we are talking about differences that have baffled scholars and theologians for centuries!
So, who was this Jesus? Was he crying out in confused agony, angry with God? Was he calm and consoling, reassuring his followers that this was all planned and that he was at peace? Was he a mere mortal, or was he God? If a mortal, was He a sadly misguided "insane" man (as his own family claimed) that was allowed to commit suicide-by-cop? If so, I find the idea of celebrating "Good" Friday to be quite unsettling, indeed.
Yes, yes – I know all of the arguments of mental gymnastics to preach the doctrine of "fully man, but fully God" – but, according to what single source, exactly? Mix and match, harmonization required.
Much like a crime scene, regardless of how many witnesses there are, there can still be only one truth. To me, these are some of the most important foundational questions any believer must be willing to ask of the Bible. That is, if they are still able to choose…
= = = = =
Remember: Don't blame us, it's in the Bible!
This illustration and commentary can be found in our first book.
In honor of Christ's sacrifice suicide, we are offering a special deal: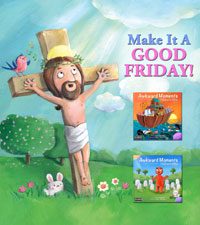 Buy one signed copy, get the second book for free!
(While supplies last, sale ends Easter at midnight.)