I'm sure it has been said before, but if you ever want to give kids nightmares, just read… the Bible.

Don't blame me, folks – it's in the Bible. Even better, this passage is straight from the mouth of Jesus, himself.
Jesus said to them, "Very truly I tell you, unless you eat the flesh of the Son of Man and drink his blood, you have no life in you. Whoever eats my flesh and drinks my blood has eternal life, and I will raise them up at the last day. For my flesh is real food and my blood is real drink!" – John 6:53-55
Growing up in the Catholic church and spending the majority of my adult life involved in ministry, it wasn't until I had to explain the act of Communion to my own children that I was forced to take a step back and really think about what it looked like to "outsiders" who had never taken their first gulp.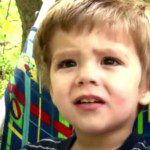 "Drink his blood? That's disgusting!!" daughter, 9
"Eat him? Which parts?" son, 7
My kids' questions might seem childlike and naive. But, I had to ask myself, "Wait, wait – if I hadn't been raised in the church, drinking the Kool-Aid and eating Saltines since before I could ride a bike, what would I think of these bizarre demands of Jesus?" And I hadn't even explained the intricacies of transubstantiation to them yet!
Many would claim (these days) that the whole idea of communion is meant to be symbolic, without any roots in pagan blood rituals. Yet Jesus' words are pretty darn explicit, repetitive, and clear to me "my flesh is real food and my blood is real drink!" Symbolic or otherwise, it is a difficult passage to swallow. Literally.