There are two things I love about passing thru Chicago on business. First, as my backup chin might indicate, I love deep dish pizza. Second, a trip to the windy city is not complete without spending time with my favorite cousin, – 'Allison,' the original Black Sheep™ of the Gilgamesh family. After narrowly missing each other on several past attempts, I couldn't believe it had been almost four years since we last saw each other.
Last night we finally got together at the Oyster Bar in Shaw's Crab House on Hubbard. It has always been one of my favorite spots in Chicago – always a great place for casual conversation with a laid back ambiance, great waitstaff, and the occasional small blues band in the corner, and of course – great food. (Even though I can't stand oysters). About a half hour into dispensing with the usual hugs, smiles, and token pleasantries, Allison reached into her bag below the table.
"I got you a little present," she said, handling me a small flat gift wrapped in wallpaper adorned with roosters and weather vanes. As she let go of the gift, I watched a healthy dose of nervousness wash over her face, so I tried to ease the tension.
"Oh, really?" I joked, "If you think this means I'm buying your dinner, you've got another thing coming, missy."
Scrunching her nose, still unsure about the gift, she said, "Oh, it's just something little. Now that you're out of the ministry world I thought you might get a little kick out of it. But if you don't… It's not…"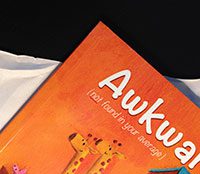 As I pulled off the wrapping paper, my brain nearly imploded – somebody just gave me a copy of my own book. I smiled as I told her, "I am Horus Gilgamesh."
"What?!? You've already seen these?" she asked.
"Yes, no, I mean…" I tried to clarify, now chuckling out loudly, "I am Horus Gilgamesh."
Then she leaned in, as if sharing a secret handshake, "I know, I know – we're all Horus Gilgamesh. Somebody even made shirts."
Twilight Zone! Half laughing, half choking on my beer – I thought I was going to lose my mind! With a red face and watering eyes, I was barely able to wheeze, "No, no – really! I really am Horus Gilgamesh – I wrote this book!"
I could see her processing this for a couple moments until it all clicked together. "BULL F*CKING SH*T!" she screamed at me, throwing her napkin at my face. "HOW DID I NOT KNOW THIS? WHY DIDN'T YOU TELL ME? JESUS!"
Apparently this type of boisterous conversation is par for the course at the Oyster Bar because not a single person even glanced at the crazy lady screaming in the middle of the room, but I was having a blast.
I told her the truth, "Nobody knows, I haven't told anybody. Aside from my wife and a couple really close friends, nobody knows about it. Can you imagine? In this family?"
"Uh, no. I mean, I suspected maybe you didn't 'believe'," she used air quotes, "anymore, but I never knew how to ask," she said. "Is that why 'Gary' hasn't spoken to you for a couple of years?"
"Nope, they don't know anything about Horus either," I told her, "But, when he found out that I supported marriage equality during the SCOTUS decisions a few years ago, all hell broke loose and he pressed me on my beliefs. It got ugly, but he will finally talk to me now. About the weather."
"Lord forbid you have your own beliefs," she joked, somberly. "How utterly ridiculous and just… sad."
"What about you?" I asked in earnest, the jovial mood long gone. "Any progress on the family front?"
"Almost five years now," she trailed off. It had been that long since Allison left her husband, once a youth pastor in their family's church, and hadn't heard from her parents since. There was a long awkward silence. "Anyway, Jesus – I just can't believe you wrote these books," she said, opening the cover and handing it to me to divert the conversation away from a very painful subject.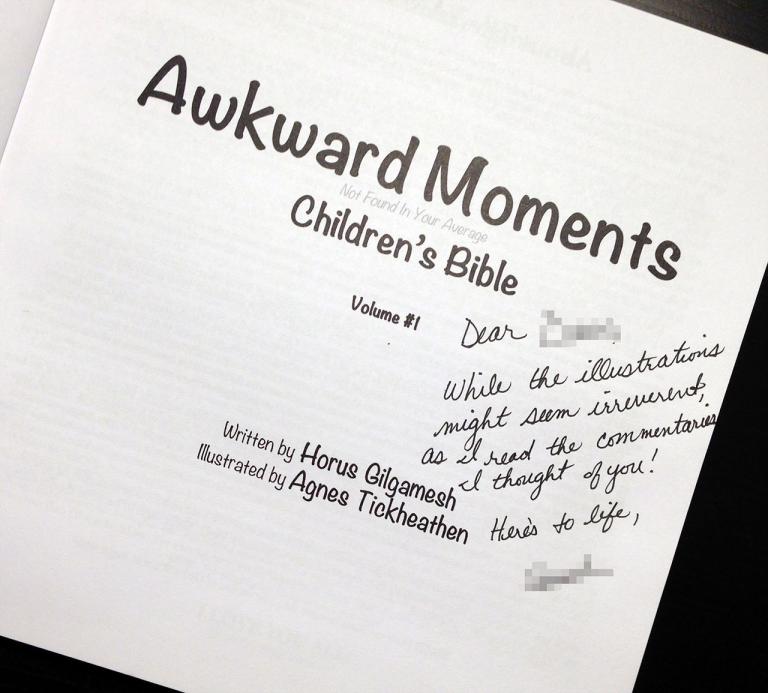 I read the short inscription and reflected on the kind gesture, our families, her strength, my weakness. The whole thing put more than a little tear in my eye. Then I turned the book toward her and pointed to a short note in the acknowledgments found on the facing page. Hidden next to her initials for almost three years was a secret Easter egg, just for her. She took a moment to read it, looked me in the eye and burst into tears. We cried together.
We shared that moment of solidarity in silent secrecy. Just the way our families like it.
At least we have each other now. After all, is there any gift greater than an open and honest relationship? "Here's to life," indeed.