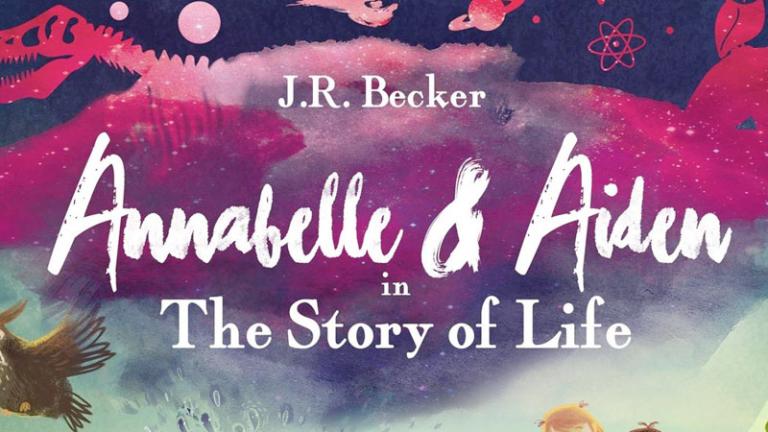 We live in such an exciting time of communicating big ideas through emerging minds making use of social media, crowdfunding, and self-distribution to launch new projects that, frankly, might never have seen the light of day just a decade ago (thanks to the maze of corporate publishers, labels, and P.R. firms not interested in alienating their primary customer bases). This is why I've been so excited to keep an eye on just such a project over the last year, chomping at the bit to be one of the first to get my hands on a copy of Annabelle & Aiden: The Story of Life – a truly enjoyable children's book focused on… evolution.
In short, this little book just nails it! Using a perfect balance of well-thought rhymes and elaborately educational illustrations to simplify complex biology into terms that even I can keep up with, I am convinced that future generations will find themselves wiser – thanks to one seemingly "little" book. Rather than bore you with an in-depth review, I wanted to share a short conversation I had with the author himself, J.R. Becker.
= = = = = = = = = =
Horus Gilgamesh: You've managed to make the complex subject of the origins of life very accessible to kids and their caregivers alike. However, I imagine that your goal wasn't just to write just any children's book. Why this book? Why now?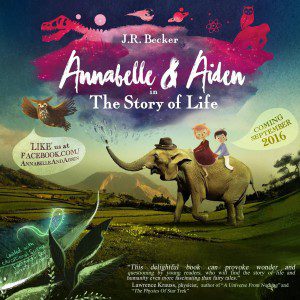 J.R. Becker: While I was passively exposed to evolution in my youth, my early education stressed a supernatural explanation for most every scientific phenomena (which, naturally, made the natural mechanisms behind such phenomena much less interesting or important to know, for me). Within the past 8 years or so, as I began to shed basic assumptions I had, naturally, I had questions which were somewhat terrifying but far more exciting. This fostered wonder and curiosity which led me to discover answers (that other humans have had for some time). Like a kid in a candy store, I learned as much as I could, and still try today. When you're in love, you want to tell the world and this book is my attempt to do that; to pass along some of this wonder and curiosity to children – arguably where it belongs the most.
I'm also currently enthralled by evolutionary psychology. How our tastes or preferences in food, art, aesthetics, and morality, come directly from the evolutionary footprint embedded in our genetic code.
HG: I see from your biography that your specialty is actually in philosophy rather than science. What would you have to say to critics who might dismiss this book under the protest, "He's not even a scientist – why should we trust our kids with his lesson on such a controversial subject?"
JRB: Evolution is a scientific theory and established fact. It's a fundamental backdrop of science, the cornerstone of biology, and very easy to understand. Even for a philosopher! It also happens to be incredibly beautiful and awe-inspiring. So I simply see myself as doing absolutely nothing more than delivering facts to children. If there's 'controversy' about that, well, I try to ignore that noise. Just as I would if there was controversy about the theory of gravity, atomic theory, or the arguably less-appealing germ theory. I don't think withholding facts from children, let alone essential facts about all Earthly life, simply because their veracity has become "controversial" is necessarily a sound recipe for an informed populous. Besides, it's easier and more fulfilling to educate children than to correct fabricated controversies that don't wish to be corrected.
HG: While this book is obviously focused on the next generation, it will certainly be read aloud by parents. What do you think is the #1 misunderstanding and/or misrepresentation of evolution among adults today?
JRB: I'm glad you asked that, because I think this is something science educators miss. It seems to me that many, many good-intentioned laypeople (who really wish to learn) erroneously think that evolution, because of the way it is taught, is some one-time "event" that occurred long ago, in which some sort of animal, like a monkey, turned into humans. So, to correct this, I think educators need to take a step back and teach it chronologically, as a story from the first living thing, branching out into all the species of life we see today. This is exactly what I tried to do in my book.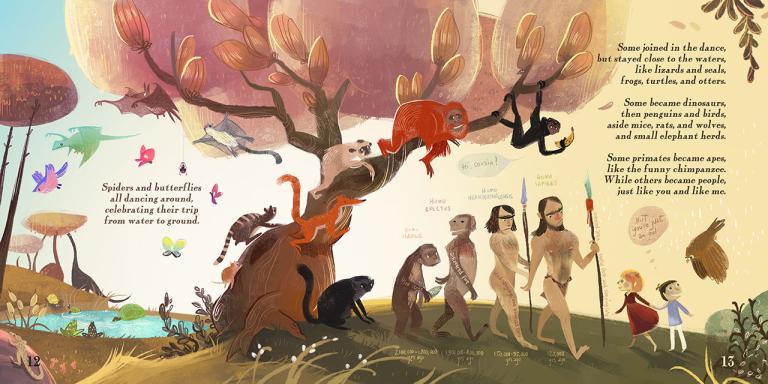 It's also shocking to me that today even doctors, nurses, and psychologists rarely view their field from an evolutionary perspective. Too few people realize that we don't need to look at millions of years of reptiles to see evolution occur: we can simply look at microbes in a bowl of soup over a course of a few weeks, or the way our crops are grown or modified, or the way our medicine is made or administered. Without understanding evolution, none of that would make any sense. Evolution is everywhere. It's taught as some abstract event that "happened" long ago. But it's happening right now. This is how it needs to be taught.
HG: While I imagine the original goal was to create a book for reading at home, I'd like to ask your thoughts on public education. Do you think there is any room for teaching "intelligent design" alongside evolution in the classroom? 4a. How was reception been so far? (From the scientific community? From the creationist community?)
Math classrooms should teach math. Science classrooms should teach science. And for biology, that means evolution. Any other classrooms can teach whatever they like. The point is to categorize classrooms accurately so that one subject is not taught as the other. The reception of my book has thus far been overwhelmingly positive (both with secular readers and Jewish religious leaders and acquaintances in my circles), with only one or two exceptions (from creationists who actually never read the book).
"This delightful book can provoke wonder and questioning by young readers who will find the story of life and humanity even more fascinating than fairy tales." – Lawrence Krauss, physicist, author of A Universe From Nothing
HG: As someone with a background in philosophy, how has having kids altered your views on, well… the universe. What kind of a parent are you? Why bring what some consider to be "personal views" on what kids should be learning into the public arena?
JRB: I don't see explaining facts to children as anything relevant to my personal views. I originally wanted to name the series Sophie & McDonald because I loved the way that sounded, but my friends didn't like it, and suggested I name it after my kids, Annabelle & Aiden. Having kids further inspired me with the hope to leave our world a better place by educating and inspiring the younger generation. Oh, and I'm a super-fun dad!
HG: I have to say, the illustrations are just fantastic! Can you tell us a little about the style and process?
JRB: An artist myself, the visual layout of the book was extremely important to me. I wanted this book to be extremely unique and stand out. I discovered an absolutely amazing artist in Poland who specializes in 'photomanipulation.' I waited months for his schedule to clear, but he still was not able to work with me. So I was so glad when I found Max Rambaldi, an incredible artist near Venice, Italy. Not only is her artistic talent incredible, but she was able to deal with my obsessively specific directions to her on every detail of every illustration with grace and professionalism. For each page layout, I sent her about 1-5 paragraphs of what I wanted. She completely pulled it off, and I'm so grateful.
HG: I noticed that there is one illustration in particular later in the book that takes a departure from the painting style to include photographs of many people.
JRB: Those are my Kickstarter pledgers who ordered that reward and pre-ordered the book. I was inspired by their enthusiasm, and hope they don't mind representing our species on those pages. 'Aint a bad-looking representation, if I may say so myself.
HG: I love it! From crowdfunding and social media to self-publishing, why didn't you choose to go the traditional route for a project like this?
JRB: I did explore the option of publishing the traditional route, but prefer self-publishing in order to maintain creative control, schedule control, and cutting out the middle man so as to build a more intimate creative community with my readers.
HG: My kids are long since grown, but I have to ask for myself – are there any more adventures in store for Annabelle & Aiden in the future?
JRB: Absolutely! This is only the beginning for the Annabelle & Aiden series. After tackling evolution, I hope to release books on aliens (the Fermi Paradox, Drake Equation), farming & agriculture, atoms & microbes, free will (and what makes us, well, us), consciousness, environmentalism (and climate change), skepticism & the scientific method, and the big bang. If anyone has any ideas, we'd love to see them in the comments section below and be sure to say hello on our brand new Annabelle & Aiden Facebook page!
= = = = = = = = = =