This blog shall serve as a daily reminder of why no one should ever agree to a wager over a game of darts with an Englishman! (Skip to January 1st.)
It all started a few months ago when I received a returned package with an extra surprise waiting inside. As it turns out, one of our fans, an atheist, thought it would be fun to send a copy of one of our books to her sister, a devout Christian, as a birthday gift. Without any further understanding of the relationship dynamics between the sisters or the motives behind the gift, I think it is fair to say that the small book of illustrated Bible verses was not well received. (Coincidentally a couple of uncharacteristically critical 1-star reviews of our book appeared on Amazon the same week.)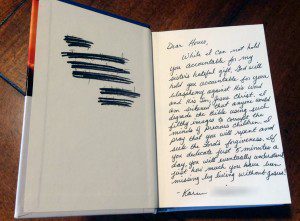 This wasn't the first time I had received a return in various stages of destruction. However, this was the first time that a return was accompanied with a re-gift, the Jesus Daily book of 365 Interactive Devotions, complete with a personal inscription from Karen (who was kind enough to cross-out the original message).
Dear Horus,
While I can not hold you accountable for my sister's hateful gift, God will hold you accountable for your blasphemy against his Word and his Son, Jesus Christ. I am sickened that anyone would degrade the Bible using such filthy images to corrupt the minds of precious children. I pray that you will repent and seek the Lord's forgiveness. If you dedicate just five minutes a day you will eventually understand just how much you have been missing by living without Jesus!
– Karen XXXXX
Of course, the irony of someone refusing to read a book given to her by re-gifting a book in return that also appears to have been left unread is, well… not lost on me. To further the irony, the book was written by Dr. Aaron Tabour, a man to whom I have written open letters in the last, calling out his exploitative practices in preying on the weak and downtrodden. (Tabour also happens to be behind a number of nutritional supplements, anti-aging lotions, and diet products. Yeah, I know…) Nevertheless, this was certainly not one of the nastiest responses I've received and always happy to receive gifts, so I placed the small devotional between works by Ingersoll and Mencken without giving it any more thought. That is, until yesterday.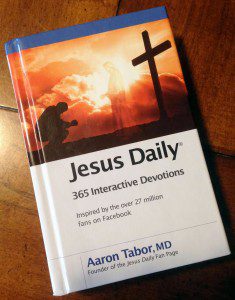 I was browsing the shelves for a book to loan to an old ministry friend who happened to be visiting. When he saw the Jesus Daily spine, he opened the book and started giggling when reading the inscription. "Wow," he said. "I wonder who this Horus guy is and what he did to piss her off!" Being New Year's Eve with a couple of glasses of scotch already down the hatch, I took a leap of faith with this trusted old friend and came out of the closet of unbelief. This led to more drinking, wonderful conversations, and a dart game gone horribly wrong – the wager of which has resulted in this damn blog! Daily! For a year!
A man of my word, and never wanting to let a gift go to waste, I have accepted my pitiful defeat and pledge to do my very best at spending the next year reading each Jesus Daily devotional before publicly sharing my honest thoughts with Karen (and you) on the main topics covered each day. I will be specifically exploring the questions of whether such a life can be equally attained through secular humanist values. Think of it as an extensive book review – in 365 parts.
Without further adieu, it's time for me to start Living Without Jesus, Daily, beginning with January 1st!
– Horus Gilgamesh, Born Again Heretic
Moral Of The Story: Never play darts with an Englishman after polishing off a bottle of Balvenie!