January 17: "Laugh Regularly"
(It Helps You Realize How Broken You Are)
Part 17/365: An atheist reviews a Christian devotional.
(If you are new to this page, here's a little background.)
Dear Karen,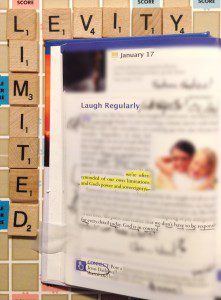 I couldn't bring myself to start my day with the book you re-gifted unto me, so I saved my reading and review until it was late enough in the day to enjoy an adult beverage while doing so. Shall we get started?
Verse Of The Day: "A cheerful heart is good medicine, but a crushed spirit dries up the bones." – Proverbs 17:22 (NIV)

Uh… So… Well… Uh… Out of all of the fortunes available in the cookie known as Proverbs, this is the one the author (a medical doctor) chose to highlight? Or, does he just play spin-the-bottle and choose random proverbs? Here, let me try…
Random Proverb Of The Day: "Let beer be for those who are perishing, wine for those who are in anguish!" – Proverbs 31:6 (NIV)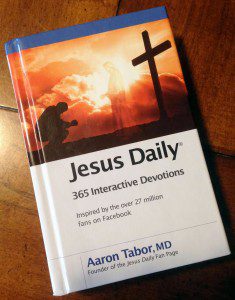 Today's Theistic Themes: As someone who makes it a goal of every day to laugh out loud at least once, I honestly thought that I was going to like today's theme, the importance of taking a little time to smile. But then I got to the reason the author thinks it is important "lighten our load and celebrate the silliness." Is it because it makes us feel good to laugh? It is because of the benefits of relieving stress, lowering cortisol, and being bearable to be around? Nope! According to the book, laughing ensures that we'll be, "reminded of our own limitations and God's power and sovereignty." Talk about a downer, eh? Remind me never to go on a double date to check out a Louis C.K. or Sarah Silverman show. Seriously? The whole point of laughter is to remind us how worthless we are? Sounds like more of a reason to not to laugh.
Short Secular Alternative: Lighten up and laugh, dammit! The very thought of a Christian analyzing their own laughter in order "to be reminded of [their] own limitations and God's power and sovereignty," is pretty damn funny in and of itself, actually. If you truly can't understand the power of laughter and happiness and joy apart from belief in the supernatural, well… I'm not entirely sure that you can handle it the one about God and a penguin on the merry-go-round. Now if you'll excuse me – while you're frowning for Jesus, I'll be the one smirking for Satan.
See you tomorrow to chat about "Trust Him" Karen? Karen?
– Horus Gilgamesh
P.S. Yep, I'm finally getting around to putting up a little tip jar. If you are a fan of this little project, be sure to check out everything else I've got going. (Spoiler Alert: I could use your help.)

= = = = =
FAIR USE NOTICE: This is a book review. This review may contain small segments of copyrighted material from said book for the specific purposes of review and criticism as allowed by the legal notice found on page 1 in the book. However, we still do our best to protect the copyright holder's content by only quoting as little content as possible for the purpose of demonstrating provided topics worthy review and critique. We believe this constitutes a 'fair use' of any such copyrighted material as provided for in section 107 of the US Copyright Law. In accordance with Title 17 U.S.C. Section 107, the material on this site is distributed without profit to those who have expressed a prior interest in receiving the included information for research and educational purposes. A click on a hyperlink is a request for information and we have provided a link to the original book as a gesture of good faith to potentially generate sales for the original copyright holder(s). You can read more about 'fair use' and US Copyright Law at the Legal Information Institute of Cornell Law School.