January 19: "Finish The Race"
(That Has No Finish Line)
Part 19/365: An atheist reviews a Christian devotional.
(If you are new to this page, here's a little background.)
Dear Karen,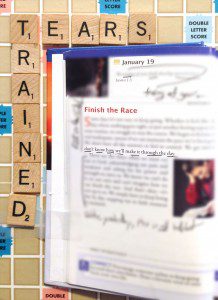 I've tried to play nice. Yesterday I even admitted that I almost agreed with the day's devotions (until they took a turn for the worse). Unfortunately, today's devotional is nothing but dangerously wicked trash. Let's start with the supplied verse:
Verse Of The Day:"The testing of your faith produces perseverance." – James 1:3

Given the author's previous penchant for promoting emotional masochism along with the Christian's favorite rally cry for "context," I find it interesting that he didn't include the preceding verse leading into a couple important words that were also omitted from today's reading:
Context: "Consider it pure joy, my brothers and sisters, whenever you face trials of many kinds, because you know that the training of your delusion produces complacency." – James 1:2-3

Once again, readers are expected to experience "pure joy" when they "face trials." As if experiencing a tragedy isn't hard enough, now made worse by threats of a guilt trip if proper thanks are not given to the heavens for your current predicament of despair. This is pure totalitarianistic nonsense that only a broken-down slave would be expected to accept upon their lives. As such, I hope you noticed what I did there, substituting three words I find to be more fitting than those offered in the original verse – "training of your delusion produces complacency." The thing about cult indoctrination is… it takes much repetition and practice before the conversion is complete. Unfortunately, predators like Jesus Daily are more than happy to provide you with tools to complete your training.
Don't believe me? Let's look at just a few of the reminders of your pathetic life found in just two short paragraphs from today's devotion alone:
"it's not easy to keep going"
"feels like a bad day"
"nothing goes right"
"boring repeat"
"same routine"
"we struggle"
"we feel insecure"
"we feel inadequate"
"we feel unsure"
"we don't have answers"
"we don't feel in control"
"we get tired"
"we don't know how we'll make it through the day"
"we can't do it"
"we are in pain"
"we are weak"
I should say, I was actually having a pretty great day until I read this load of brainwashing insanity! Suddenly I'm filled with angst and uncertainty, reminded of all sorts of hardships that I've chosen not to make the sole focus of my daily life. But, don't get me wrong – this comes as no surprise and it's not just Jesus Daily who tricks people into feeling… broken. I've heard many pastors use similar tactics over the years directly before making welcoming altar calls with statements like, "Come just as you are – Christianity isn't for the strongest, most confident, and smartest people in the world – Jesus came to save the lost, the broken, then weak." You know… directly after he just mind-tricked the entire audience into acknowledging to the person next to them just how lost, broken, and weak they have all felt at *some* time in their life.
Sadly, I'm ashamed to admit that I used similar tactics during my career in ministry because, well… it's so easy. That said, a lot of things are easy, but that doesn't make them right. I'm still coming to terms with just how wrong I was for many years and how the errors of my ways continue to have a profound effect on many lives – harm I'm not sure how to un-do, harm that Jesus Daily continues to inflict on a daily basis.
Of course, the truly evil trick of Christianity is that the misery doesn't really end once you "accept" Jesus. No, it's a trap! Once you are in, you are now under the control of "the church" and must continue to acknowledge just how lost, broken, and weak you really are – not just today, but for the rest of your life and beyond. Don't believe me? Go to church this weekend and pay attention to the lyrics of the praise and worship tunes being sung amid tears and hands raised in a gesture of submissive worthlessness; the very same position a slave would take while pleading for the master's "grace."
Short Secular Alternative: Are you have a great day? Great – celebrate it and be on the lookout for ways to help others achieve their own goals! Are you having a rough day? Why would you wait around for Jesus to do something about it? What has Jesus actually done for you (or anyone you know) lately? What has taken place in your life that couldn't be otherwise attributed to your own perseverance or the assistance of others; family friends, co-worker, strangers? Give yourself some credit for your accomplishments, have faith in your potential, but also be sure to give yourself a little grace for your failings. The best way to "finish the race" is to keep running, not sit on your hands and pout. Duh.
See you tomorrow to review "Live As Forgiven" – whatever that means. That is – if you are able to make it through another awful day of your pathetic broken life.
– Horus Gilgamesh
P.S. Yep, I'm finally getting around to putting up a little tip jar. If you are a fan of this little project, be sure to check out everything else I've got going. (Spoiler Alert: I could use your help.)

= = = = =
FAIR USE NOTICE: This is a book review. This review may contain small segments of copyrighted material from said book for the specific purposes of review and criticism as allowed by the legal notice found on page 1 in the book. However, we still do our best to protect the copyright holder's content by only quoting as little content as possible for the purpose of demonstrating provided topics worthy review and critique. We believe this constitutes a 'fair use' of any such copyrighted material as provided for in section 107 of the US Copyright Law. In accordance with Title 17 U.S.C. Section 107, the material on this site is distributed without profit to those who have expressed a prior interest in receiving the included information for research and educational purposes. A click on a hyperlink is a request for information and we have provided a link to the original book as a gesture of good faith to potentially generate sales for the original copyright holder(s). You can read more about 'fair use' and US Copyright Law at the Legal Information Institute of Cornell Law School.