January 22: "Schedule Rest"
(Naptime With God)
Part 22/365: An atheist reviews a Christian devotional.
(If you are new to this page, here's a little background.)
Dear Karen,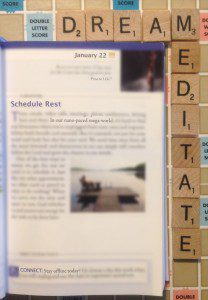 After waking up a little sore from marching with about 150,000 of my closest friends in Seattle yesterday, I almost took today's devotional literally and skipped my obligatory review altogether. However, a deal is a deal but I'll keep things short, starting with the opening verse:
Verse Of The Day:"Return to your rest, my soul, for the LORD has been good to you." – Psalm 116:7

Yep, that's another Bible verse alright – back to quoting Psalms, Proverbs, or Paul, I guess? Though, I will say, the entire passage of Psalm 116 is one of the most overly melodramatic chapters of the Bible. I like to imagine Nathan Lane billowing out every word with tragic sincerity.
That said, aside from the appeal to the supernatural, I mostly agree with the general idea behind today's devotional. (Although, I did get a chuckle from the "nano-pace mega-world" verbiage.) Everyone needs to take a little time for themselves, be it active meditation, passive day dreaming, or just a nice bubble bath with a glass of wine. If we are too busy to dream about tomorrow or learn from yesterday, ruts form and complacency seems inevitable.
But, wait! Shouldn't "alone" time actually be spent… alone? If you spend this otherwise constructive time trying to please an invisible absentee father, you'll never have a chance at finding true fulfillment of your own hopes dreams. (Or worse… well, I'll save that for another day.)
Short Secular Alternative: Take a little time for yourself! To breathe, smile, learn, rest, and recuperate. But if you are taking this time for yourself, be sure to guard it like the precious rare commodity that it is. No gods necessary (or allowed).
See you tomorrow to "Ask For Wisdom."
– Horus Gilgamesh
P.S. Yep, I'm finally getting around to putting up a little tip jar. If you are a fan of this little project, be sure to check out everything else I've got going. (Spoiler Alert: I could use your help.)

= = = = =
FAIR USE NOTICE: This is a book review. This review may contain small segments of copyrighted material from said book for the specific purposes of review and criticism as allowed by the legal notice found on page 1 in the book. However, we still do our best to protect the copyright holder's content by only quoting as little content as possible for the purpose of demonstrating provided topics worthy review and critique. We believe this constitutes a 'fair use' of any such copyrighted material as provided for in section 107 of the US Copyright Law. In accordance with Title 17 U.S.C. Section 107, the material on this site is distributed without profit to those who have expressed a prior interest in receiving the included information for research and educational purposes. A click on a hyperlink is a request for information and we have provided a link to the original book as a gesture of good faith to potentially generate sales for the original copyright holder(s). You can read more about 'fair use' and US Copyright Law at the Legal Information Institute of Cornell Law School.