January 31: "The Master's Handiwork"
(Of Feigned Humility)
Part 31/365: An atheist reviews a Christian devotional.
(If you are new to this page, here's a little background.)
Dear Karen,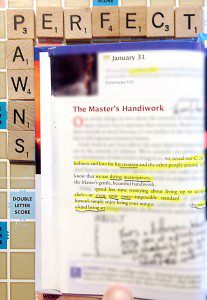 We made it – a full month of devotions from everybody's favorite, Jesus Daily! I guess there's no more fitting way to end the month than to, once again, start the day off by reading the Apostle Paul, rather than the J-man himself.
Verse Of The Day: "For we are God's masterpiece. He created us in Christ Jesus, so we can do the good things he planned for us long ago." – Ephesians 2:10
God's masterpiece? Just yesterday we were a "work in progress." No wonder Aaron Tabor prefers to quote Paul instead of Jesus – this is quite a departure from Christ's teaching, "you are useless – to be thrown away, dried up, gathered into a pile and burned like any other trash!" highlighted just a few days ago. This continued disparity between and preference for the words of Paul over Jesus perfectly illuminates why Christianity should be renamed Paulianity.
Today's Theistic Themes: Today's devotional tells readers that they are a, "divine masterpiece… the Master's beautiful handiwork." If you are wondering what this means for your daily life, the author tells us, "You should "spend less time worrying about living up to someone else's – or even your own – impossible standards." If you are wondering what you are supposed to do instead of following your hopes and dreams, it couldn't be any clearer, "Instead, simply enjoy being unique… the one-of-a-kind living art shaped by the Potter."

Do I even need to say anything about this dangerous recipe for self-aggrandizing delusion? Isn't it odd how it is mostly the evangelical conservatives who mock our modern "blue ribbon" culture of acknowledging every minor achievement? After all, by the Christian standards put forth above, any "blue ribbon" for actual achievement is unnecessary and redundant because you are already a "one-of-a-kind masterpiece" who can do no wrong. The irony is palpable, and, of course – I imagine much of the hostility toward the achievement of others is the inability to take credit for the achievement of their own.
Nevertheless, I guess it is no surprise that studies show how it is the religious children who put their inflated egos to good work in order to bully and demean others. After all, they are masterpieces – mommy, daddy, the pastor, and the Apostle Paul say so! Sheesh… So humble, eh?
Short Secular Alternative: There is a difference between actually being one-of-a-kind and just acting like it. One takes individuality and drive, the other – conformity and delusion. So, if you are walking around through life with an ego so inflated that you think (and act like) you are the amazing one-of-a-kind "masterpiece" put on earth by some supernatural overlord, you might need to check yourself before you wreck yourself. Or, just run for president of the United States.
One month down, eleven to go – see you tomorrow to discuss "Jesus Is The Answer."
– Horus Gilgamesh
P.S. Yep, I'm finally getting around to putting up a little tip jar.
If you're a fan of this little project, be sure to check out everything else
I've got going on. (Spoiler Alert: I could use your help.)

= = = = =
FAIR USE NOTICE: This is a book review. This review may contain small segments of copyrighted material from said book for the specific purposes of review and criticism as allowed by the legal notice found on page 1 in the book. However, we still do our best to protect the copyright holder's content by only quoting as little content as possible for the purpose of demonstrating provided topics worthy review and critique. We believe this constitutes a 'fair use' of any such copyrighted material as provided for in section 107 of the US Copyright Law. In accordance with Title 17 U.S.C. Section 107, the material on this site is distributed without profit to those who have expressed a prior interest in receiving the included information for research and educational purposes. A click on a hyperlink is a request for information and we have provided a link to the original book as a gesture of good faith to potentially generate sales for the original copyright holder(s). You can read more about 'fair use' and US Copyright Law at the Legal Information Institute of Cornell Law School.