Trick or Treat! Is there any Halloween costume more terrifying than showing up dressed as Jesus Christ on a stranger's doorstep?
The Meek and Mild, the Prince of Peace? Let's be honest… if you saw a man walking down the street, mumbling these Bible verses under his breath – would you really invite him in if he came knocking at your front door? Would you actually introduce him to your family and friends as an authority figure in your life?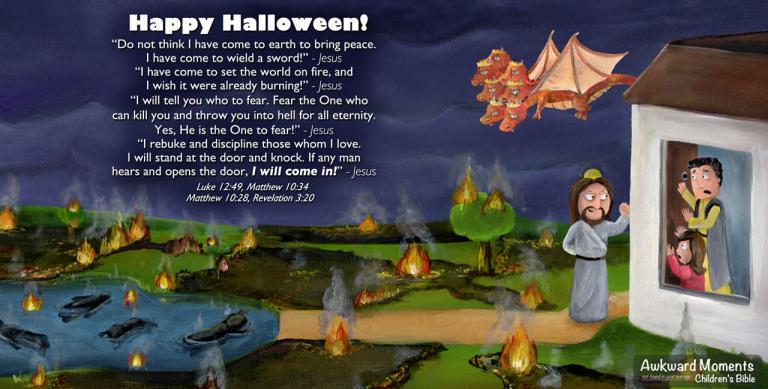 "Do not think I have come to earth to bring peace. I have come to wield a sword!" – Jesus (Matthew 10:34)
"I have come to set the world on fire, and I wish it were already burning!" – Jesus (Luke 12:49)
"I will tell you who to fear. Fear the One who can kill you and throw you into hell for all eternity. Yes, He is the One to fear!" – Jesus (Matthew 10:28)
"I rebuke and discipline those whom I love. I will stand at the door and knock. If any man hears and opens the door, I will come in!" – Jesus (Revelation 3:20)
I'll be honest – if a grown adult were to knock on my door dressed as Jesus on Halloween night, I would be hiding under my bed because, well.. this guy. As it turns out, there are scarier things than razor blades in Snickers bars.
To quote Little Richard, "You keep on knockin' but you can't come in!"
– Horus Gilgamesh