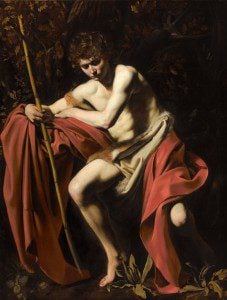 John (the Baptist) in the Wilderness by Michelangelo Merisi da Caravaggio
He was fierce. Wild, even.
And yet, he was strikingly lucid.
Oh, he could scare a person. Especially if he made eye contact with you from across the crowd. If he shook his rough hewn staff at you and uttered those words that cut to the core of your complacency, he could scare you. Because what he said was true. John the Baptist didn't come to win friends. He came to shake us. To peasants and Pharisees, to soldiers and Scribes, the Baptist raged.
"You brood of vipers! Who warned you to flee from the coming wrath!"

"And do not presume to say to yourselves, 'We have Abraham as our father.' For I tell you, God can raise up children to Abraham from these stones."

"Even now the ax lies at the root of the trees. Therefore every tree that does not bear good fruit will be cut down and thrown into the fire."

"His winnowing fan is in his hand. He will clear his threshing floor and gather his wheat into his barn, but the chaff he will burn with unquenchable fire."
The prophet Isaiah was referring to John when he said,
"A voice of one crying out in the desert: 'Prepare the way of the Lord, make straight his paths.'"
And that voice was tough.
John the Baptist even challenged the despotic King Herod for his unlawful relationship with his brother's wife knowing well that it would likely cost John his freedom, if not his life. And it cost him both. But to John, that was irrelevant.
John the Baptist came to shake us.
You see, what I learned from John the Baptist is that Advent isn't solely a time to light candles and gingerly, sweetly await the coming of our Lord. Don't misunderstand, I love and need the contemplative spirit that comes with this wondrous anticipation. But Advent is also a time to be shaken, to be challenged, to abandon the smug self-assurances declaring, "I've figured it out, I'm doing okay, I'm pretty awesome."
John the Baptist is not impressed.
It took a man living in the wild, dressed in camel's hair and eating locusts and honey – in effect, an uncivilized man (paradoxically, in the best way) – to prepare us for the coming of the Christ. John the Baptist is almost a grotesque of the form Flannery O'Connor conjures in her novels: unsettling, uncontrollable, alien and yet serving as an extraordinary agent of grace who can be easily and tragically missed.
But why? Why did he have to be so rough…so harsh?
Because in sinning and wandering from God, we have forgotten who we are. We have jettisoned the high call of dignity for the low satisfaction of our appetites. We are intoxicated on the dregs of power, honor, wealth and pleasure. And it takes John the Baptist to scream, "Sober up! Stop lying to yourselves! End your senseless pursuit of food and drink that will never satisfy! End your worship of false gods who will never respond! And prepare to encounter the God who will transform you forever…if you only let him."
Perhaps the greatest reason we needed a coarse, contrary John the Baptist as forerunner to Christ can be found in Fyodor Dostoevsky's classic novel, The Brothers Karamazov. In one scene, the holy elder Zosima confronts the disingenuousness of Fyodor Karamazov with this admonishment,
"The important thing is to stop lying to yourself. A man who lies to himself, and believes his own lies, becomes unable to recognize the truth, either in himself or in anyone else, and he ends up losing respect for himself as well as for others. When he has no respect for anyone, he can no longer love and, in order to divert himself, having no love in him, he yields to his impulses, indulges in the lowest forms of pleasure, and behaves in the end like an animal, in satisfying his vices. And it all comes from lying – lying to others and to yourself."
John the Baptist reminded us that we have been lying to ourselves. We are dignified children of God called to follow a higher path. It is a path of obedience, discipline and repentance, but it leads to indescribable, unparalleled Joy. And yet…we have forgotten who we are. We have forgotten where we are going. We have forgotten how to get there.
John was there to remind us. Fierce at times. Loving at others. Honest from start to finish.
It is Advent. It is time to be shaken.
Prepare the way of the Lord, make straight his paths.
Indeed.
—————————————————
Photo credit: Caravaggio's St. John the Baptist in the Wilderness – https://en.wikipedia.org/wiki/Chronology_of_works_by_Caravaggio