A popular atheist recently asked why his fans are mostly men on his Facebook page. The comments on that post were rife with sexism and pseudoscience on how women are too emotional and not rational enough for atheism. There were also attacks on feminism as well. Hopefully, this male atheist learned exactly why more women do not follow him as many atheist spaces are filled with sexism and misogyny.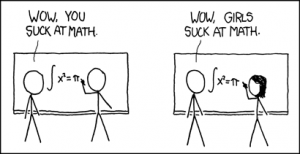 That Facebook post is just one example as sexism in the atheism community has been well documented. Yes, sexism is everywhere, but we can and should address the sexism within our community. We as atheists are already a minority. We already face stigmas and discrimination. The last thing we need is to fight each other and think half of the population is inferior and not worthy of atheist-ing. I'm not asking for every male atheist to become a perfect feminist overnight or ever since no one will ever be totally free from their biases. However, we all (especially the men) can come together and make a concerted effort to fight sexism when we encounter it.
I'm sure there are many male atheists who are not sexist assholes; however, when men do not challenge sexism, they send a message that they are tacitly approving it. When men see sexism going on, we should take advantage of our privilege and call it out. It's easier for men to call out sexism because we do not
receive rape threats for merely voicing our opinions like women do
. Instead of just dismissing the vile sexism throughout our community as mere trolls, we should have the courage to admit that we have a widespread sexism problem.
Atheist men can definitely call out sexism when we see something, but we can also actively listen to the experiences of women instead of assuming that we know what it's like. We as atheists should be able to relate to discrimination even if we have both white and male privilege. Think about how annoying it is when Christians tell us that atheists face no discrimination and theists are actually being persecuted. It is equally absurd to say women do not face systematic discrimination. We all can and should do better.
[Featured image from xkcd]