Kim Davis recently made some news by stating how she wouldn't issue marriage licenses to same-sex couples. It was quickly pointed out that Davis was married four times and the internet didn't hesitate to lambaste her for her hypocrisy. Yes, it's a bit odd that someone would impose their views on marriage onto others while having their own marital issues, but this isn't relevant to why she is wrong. I'm fine with people writing about the intersections of hypocrisy, morality, and religion in a nuanced way, but I'm not fine with this image below or calling her a "slut" or a "whore" for being married multiple times (just search through Twitter if you want to see other awful examples).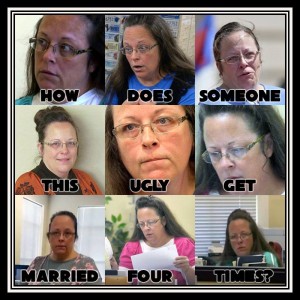 These are the insults "progressives" are going with now? A similar case of this happened when Bristol Palin was slut-shamed when we found out she was pregnant again. I don't agree with abstinence only-education either, but I don't need to slut-shame my opponents to make my point. The facts speak for themselves.
It's great to call out bigotry and mentioning hypocrisy can provide some interesting discussions when done tactfully, but can we please stop slut-shaming and attacking the looks of women that we disagree with? If the point of attacking these people is to demonstrate that we won't stand for bigotry in this world, then the tactics I've mentioned here are failing miserably. We can do better.
[Image from The Bible: An Atheist's Point of View]