Can atheists and Catholics find common ground in the dating world? I think they can as long as they share enough common values. Carolina Miranda is the creator of Feminine Harbor and she is also a Catholic. We met in a feminism group on Facebook when she messaged me to tell me that she enjoyed an article of mine. We became Facebook friends and I've really enjoyed getting to know her online. We bonded over our progressive values and dating disasters.
Carolina and I have a lot in common despite our religious differences. After chatting back and forth we realized we would probably go on a date together if we lived in the same country. Since we don't, we figured the internet might enjoy reading some common ground we found regarding our perspectives on the dating world.
---
Q: Has online dating ever worked for you? If yes how so, and if no, why do you think that is?
Matthew: Yes, online dating has worked for me a couple times. I've had two serious relationships with women I met from OkCupid and they were both very positive experiences. Both of those relationships ended because my partner moved, but I was very fortunate that I was able to get to know them and we are still good friends. I've met many people from OkCupid and even though I've only dated two of them, it was still cool to meet people I wouldn't normally have the opportunity to ever talk to.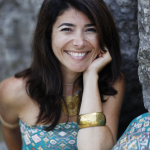 Carolina: To be honest, I don't think dating has ever worked for me, online or not. I am very quick to read people, and I really know what I want, and what I need.  I never once fail to learn from any of the partners I've had, and I have always taken many incredibly important life lessons from these encounters. But to this day, other than my ex-husband of ten years (a relationship that was longer than that), I have never been with anyone for more than three months. Most of the times, what I run into are men who are very intimidated by me, or who cannot keep up in a pursuit of intellectual, emotional, spiritual, and physical growth, which I firmly believe is what we are here for. And so I soak up what they have to offer, and then it becomes clear that we need to move our separate ways because we want different things.
Online dating was particularly complicated because people see my photos and they make shallow assumptions: I get a lot of the "hot Brazilian mama". In my last attempts with online profiles, I switched all my photos for my least attractive ones, and posted very bluntly that I am an ambitious, intellectual feminist. I sure did get a lot less matches on Tinder! And that's where there is a huge dissonance. When they meet me, they don't know what to do with me: I am opinionated, funny, very sensitive, very different and much more complex than the original one dimensional picture they had formed in their heads from my online profile. I don't think they even imagine that I go to church every weekend and that this is important to me. I also felt it took a lot of my energy and it gave me a lot of anxiety, because I just couldn't trust them due to the nature of how we met. So I am going back to the basics: chance encounters, and letting life happen for a change.
Q: What is the most ludicrous dating experience you've ever had?
Matthew: I've been lucky that the worst of my first dates have mostly just been boring, but two in particular were pretty bad. One date I was on was going pretty well until I found out the woman was pretty racist and was worried how "black people antagonize the police." When I tried to politely explain why that was a problematic thing to say, she doubled down and continued spouting off other racist things. 
Another strange encounter happened when I met a woman from an online dating site and we talked for no more than 2 minutes. She asked me what I did, I briefly told her what I was studying, and then told me she found my work boring. She then asked if I had another job outside of school and I told her I did not because my school paid me a small stipend. Immediately after that she told me she wanted to go home. This was odd to me because she knew I was a PhD student before we met, but she wasn't interested in getting to know me beyond my career or how much money I made when we met in person. But people like what they like and I'm glad it was a mutual disinterest at least.
Carolina: I think it was with this guy who worked for a very high profile international, social organization. I was incredibly excited to meet him, because he had a PhD, had travelled the world, spoke five languages, and due to the nature of his organization, I was dead sure we were going to be able to skip the whole Feminism 101 thing. Low and behold, this was the most controlling person I've ever met (there are wonderful things about him, don't get me wrong – he was charming, interesting, etc. But he was very controlling!)  On our first date, he asked me if I liked to cook, to which I said yes, to which he proceeded to reply "Good girl"! I got close to having a fit! It was also a very empowering moment, because I really stuck to my guns, and I did not care about what he thought of me at that moment. I told him how incredibly disappointing it was to hear that kind of language from a person who should know better. We got together a few more times here and there for a period of about three months (of course!), but he continued to show just what I had noticed in our first date: a disregard for women, and a very ingrained chauvinistic behaviour that eventually led me to leave him even as a friend, which I rarely do.
Q: What do you think you are looking for in a partner?
Matthew: Honesty and openness and necessary traits. It's great to have some common interests, but sharing common values is essential. I'm also passionate about science and social justice so my partner would at least have to not be bored if I want to talk about those subjects sometimes. If they have major prejudices and refuse to reflect on them then I don't think it could work out. I'm a pretty independent person and definitely would like to find someone who can also live their life confidently by themselves. To me, you shouldn't need to have a partner to be happy, but they can make your life a lot happier. While I'd like to find someone also very driven, it's important to find people who can also be silly and have fun sometimes as well.
Carolina: I used to go back and forth between wanting a light hearted relationship, someone to just have fun with, and someone who I want as a life partner. And I think I have finally come to accept that the "have fun with" or light, casual partner is not realistic or necessary for me… I have an immense amount of love and fun in my life as it is, and I don't want to settle for any less than I know I deserve. Someone kind, with integrity in his heart, who is gentle, who respects me, who sees me, who is an advocate for women's rights and other social justice topics, I could go on a list that is detailed, as I have had a lot of time to think about this and I have had enough partners to show me what I don't want. Ultimately, I want to be able to admire that person, to feel secure with him, and to have a healthy sexual relationship (a long term relationship without healthy sex can become very depressing after awhile). There is also the fact that I have two daughters, and I really want one more child. So for now at least, this person would have to be open to having step-daughters and wanting a child of his own… It's a lot of love to take on, and very people have such a big heart. So I decided to no longer worry too much about it, or it would drive me crazy.
Q: How has online dating changed the dating scene where you live?
Matthew: As a progressive atheist living in the Bible Belt, online dating has definitely been a positive thing for me. It's nice to find other like-minded people since I'm very much the minority here.
Carolina: I honestly don't know. I have only been single for two years now, and I met most of my partners either through a friend or bumping into them in real life. Everyone tries to set me up with a cousin, a friend, a brother. It's actually kind of funny! Currently however, I am not looking and I shut down all of my online profiles. I basically got tired of focusing my energy on that (it takes a massive amount of time to go on all these dates, meeting all these new people each time). I also met someone who I am highly impressed by, completely unexpected and in a real encounter kind of way. Unfortunately for me, he has a partner right now, so I am trying to be very respectful of them, and their space and just moving on with my life. At least he gave me a sense of hope because now I know that there are men like him out there, and perhaps someone like him, but who is actually available, will cross my path.
Q: How has dating allowed you to grow as a person?
Matthew: Learning from my dating experiences has provided many opportunities for personal growth. Whenever something doesn't work out, I don't automatically assume it was the other person's fault. I try to use any conflict or frustrating experiences to reflect on how I can become a better person. If there isn't much to learn from, I just try to acknowledge that sometimes relationships do not work out. People have their own romantic interests and it's perfectly okay if they are not mutual. Understanding that many relationships don't succeed simply makes me appreciate the good ones so much more.
Carolina: "Life revolves and then it evolves…" That's how I see relationships, especially romantic partnerships. We are mirrors to one another, and I believe that often, our partners come into our lives to set things into motion. They get us into our core, to learn lessons that are ultimately about healing and setting ourselves freer, taking us further into a journey of growth. All of my partners, without an exception, have played a major role into who I've become. I've loved them much, even if briefly, with one exception (which was the one man I was briefly with against my own intuition, and so I suppose that was the lesson: listen to your intuition and not someone else's). They've given me a lot to learn from in regards to what I want from my life, and what I don't want as well. Or who I want to be as a person, as well as a partner. I am incredibly grateful to each one of them, and I hope they know it. At some point, I hope I will meet someone who just stays and wants to be on the same path as me, growing and building with me.
---
Featured image from Pixabay under CC0