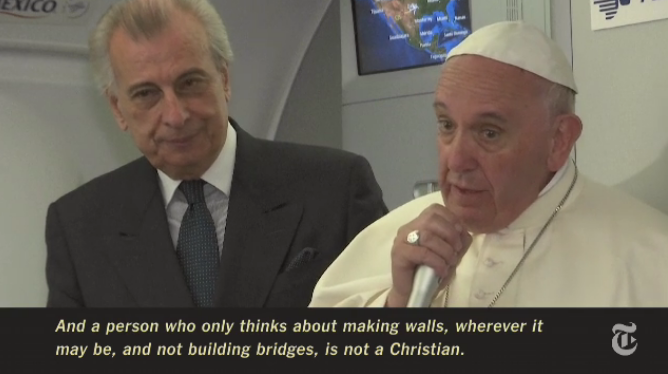 In a recent interview Pope Francis was asked about Donald Trump and he responded:
A person who thinks only about building walls, wherever they may be, and not building bridges, is not Christian
The Pope also said how abortion is still an "absolute evil" even for women infected with the Zika virus (which leads to serious birth effects). This of course is just another example of the many awful things the current Pope has done or said; however, these kinds of statements could have important political consequences.
The Pope calling a Republican presidential candidate "not Christian" is significant because of how strongly Christianity and conservatism overlap. Donald Trump is still the front runner, but he has repeatedly threatened to run as an Independent, which I think would fracture the Republican party (and almost guarantee the next President will be a Democrat). What do you think?
[Featured image from New York Times screengrab]