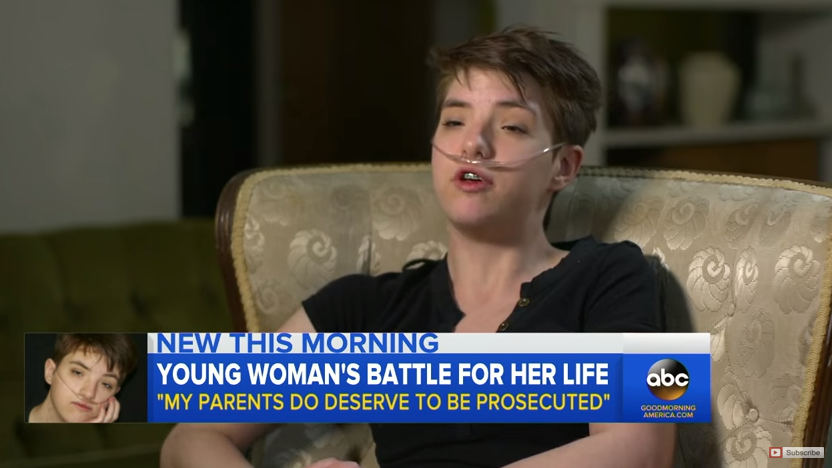 Mariah Walton has pulmonary hypertension, is often bedridden, and will soon require a heart and lung transplant because of her various medical problems. Mariah was born with a small defect in her heart that could have been fixed with conventional medical treatment. However, Mariah's parents were fundamental Mormons and did not "believe" in conventional medicine. Mariah's parents thought all medical problems could be solved through faith and prayer. 
Their faith healing strategy didn't work and now Mariah spends her days barely able to move because of a medical condition that could have easily been prevented. Mariah's family is from Idaho, which actually protects religious faith healers from medical neglect.  Mariah, now 20, feels quite differently about her state's law as she told The Guardian:
"Yes, I would like to see my parents prosecuted. They deserve it. And it might stop others."
There was some pressure on Idaho to change their "religious freedom" laws, which allow parents to not obtain medical treatment for their kids if it conflicts with their faith. However, Lee Heider, Idaho's chairman of the Senate health and welfare committee, recently rejected any sort of hearing that discussed changing this law. When Heider was asked about the exemptions that allow children to die or become sick, he responded:
"Are we going to stop Methodists from reading the New Testament? Are we going to stop Catholics receiving the sacraments? That's what these people believe in. They spoke to me and pointed to a tremendous number of examples where Christ healed people in the New Testament."
Sigh. This is very depressing, but groups are putting pressure on Idaho lawmakers. Protect Idaho Kids is one group that is fighting these absurd "religious liberty" laws that ends up hurting children. Check out their website for more information!
[Featured image from ABC News screengrab]