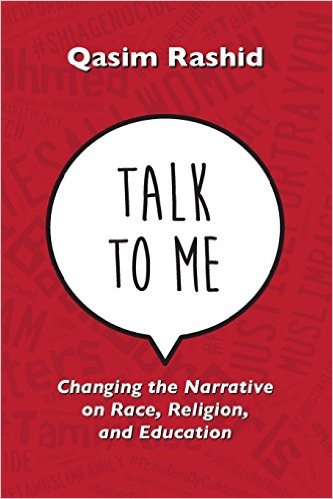 Atheists and Muslims can actually find a lot in common as they are both religious minorities in the United States. Both groups are not trusted, feared, and discriminated against. I would argue it's harder for Muslims, but it's certainly not good for anyone. I hate seeing any group discriminated against so over the past few years, I've tried to reach out to Muslims out of solidarity and support them. There are also many progressive Muslims that are trying to change the stereotype and that's how I found out about Qasim Rashid!
Qasim is a frequent writer and speaker about human rights and Islamic issues. He's appeared on many national news stations (including bravely appearing on Fox News) and gives talks all over the country. Qasim has also written several very popular books including The Wrong Kind of Muslim: An Untold Story of Persecution & Perseverance and the Amazon #1 Best Seller on Islam, EXTREMIST: A Response to Geert Wilders & Terrorists Everywhere. 
Qasim and I haven't met yet, but we have been following each other on social media for a few years now and I'm honored to be his friend. We agree on many things, but of course we have our differences as well. One thing I really like about Qasim is his advocacy for open dialogue between different groups of people. When Qasim asked me to review his new book on this very topic, I jumped at the opportunity! Here is my review of Qasim's latest book: Talk To Me: Changing the Narrative on Race, Religion, & Education.
---
I started reading this book during a very busy time for me and despite the many things I had going on, I found it hard to put it down! Talk To Me is full of harrowing stories that grip your attention right from the start. The entire book is full of a variety of perspectives that discuss the benefits of dialogue. Talk To Me has many different authors that write guest chapters that bring their own unique viewpoint and story. I found this to be a great way to illustrate the importance of dialogue on a meta level! Despite the many different viewpoints, the chapters blend together in a common message that not only highlights the importance of dialogue, but illustrates the dangers of xenophobia and racism. Here are a few of my favorite examples:
Qasim was leading a blood drive through his Muslim Law Student Association on the anniversary of 9/11 when a Christian man approached him. At first Qasim was worried there would conflict, but the Christian told him:
"Humans died on 9/11. That's all I care about. And when I heard there was an opportunity to save lives in their honor, I knew I had to be here. And when I learned it was a young man of the Islamic faith who was leading the effort, I knew I had to meet him. That is what I came to tell you today, young man."
In other chapters, Qasim describes the racism that still plagues our country. Qasim shares his own personal stories as well as other people of color. One example that really struck me was when a black priest was about to be hired by a church until they found out he was married to a white woman. Despite how depressing these stories can be, the authors also discuss how we can work through these racial issues and overcome the many problems we face.
I also liked how Qasim and the other authors consistently found common ground with those outside of their faith or religion. A Jewish man remarks in one chapter: "It is my fierce pride in my Jewishness that allows me to appreciate the fierce pride of others in who they are." I think this really captures a strong message in Talk To Me. Self-reflection can often allow us to understand other points of view easier. We really do share many commonalities by simply being human beings and it's important to realize what we share before we go down the dark path of dehumanizing others.
A final theme in Talk To Me is dealing with death. Now as an atheist, I don't share the view that there is an afterlife. However, Qasim and I actually have a lot in common with making the most out of our lives and how we cope with losing those we love. Even when people die, they can live on in our memories and from the impact they had on others. Qasim states towards the end of his book:
They say that every person dies twice. Once, when they stop breathing, and then when someone says their name for the last time.
This is actually a quote that I have said before and is quite meaningful to me! Honestly, the entire end of the book had me nodding continuously in agreement. Qasim concluded Talk To Me by explaining the importance of dialogue for living a meaningful life and making the world a friendlier place. Because we should try to have as positive impact as possible while we are here, we should try to reach out and positively influence as many people as possible. This is something I wholeheartedly agree with and I think it cannot be expressed enough.
So overall I thoroughly enjoyed Talk To Me and would recommend it to literally everyone. The book is filled with messages that we all can benefit from, regardless of our religious or racial background. We must talk to each other and realize our shared humanity if we care about reducing suffering and making the world a better place.