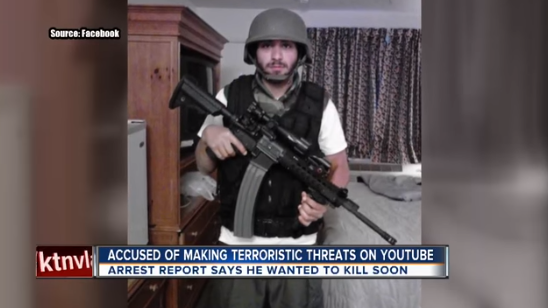 Bryce Cuellar of Las Vegas was arrested after making a YouTube video detailing how he was going to kill "gays, faggots, lesbians and satanists." He also claimed to be a "Christian Warrior." Both his YouTube and Facebook were full of violent anti-gay rhetoric, conspiracy theories, and also arguments for Christianity. Police said his posts were becoming more violent and radical over the past few years.
Beyond his violent speech, Cuellar is a domestic abuser. According to KTNV Cuellar attacked his wife shortly after making the video.
An hour after Cuellar posted the video, police say he attacked his wife, punching her and causing her to fall to the ground. He then jumped on her and began choking her and telling her that he was going to kill her.

During an interview with Cuellar, he admitted to making the video and says that he was angry and drunk. He also told police that he knew he had screwed up with the video and that he is not a murderer.
Well, Cuellar may have told the police that he is not a murderer, but I personally feel better knowing he is currently behind bars. This man does sound dangerous. His bail is currently set at $100,000 and he has another hearing September 1st.
If we are going to call out Islamic terrorism, we have to be consistent and call out Christian terrorism as well. There are Christian terrorist groups that rarely get talked about and this is just another example of how any religion can radicalize people. I'm sure some people will tell me how Cuellar is not a "true Christian" but then who is?  Any religious ideology can be used to fuel violence and bigotry and we must condemn all of it.
[Featured image from screen grab]