Liberals like myself are still trying to cope with the reality that Trump will be our next president. However, it's been interesting to see Trump supporters already express regret in their vote! Donald Trump has quickly waffled on a few campaign promises and looking to be building the swamp instead of draining it. Now there is actually a new blog keeping track of the ever growing regret posts by Trump supporters. Here are a few:
A collection of posts by people who are already regretting voting for Trump: #Trumpgrets https://t.co/ylY38bwxbe pic.twitter.com/99TVqPzfKP

— Mike Keller (@realitytourist) December 2, 2016
So far he's not draining the swamp. It's a cabinet full of wealthy insiders.

Come on Donald. It wasn't a corny phrase. It got you elected

— Joe Walsh (@WalshFreedom) December 1, 2016
Sounds like the big sell-out is coming. Oh well. The voters did what we could. If Trump sells out, it's not our fault. https://t.co/tdMpAuDaRI

— Ann Coulter (@AnnCoulter) December 2, 2016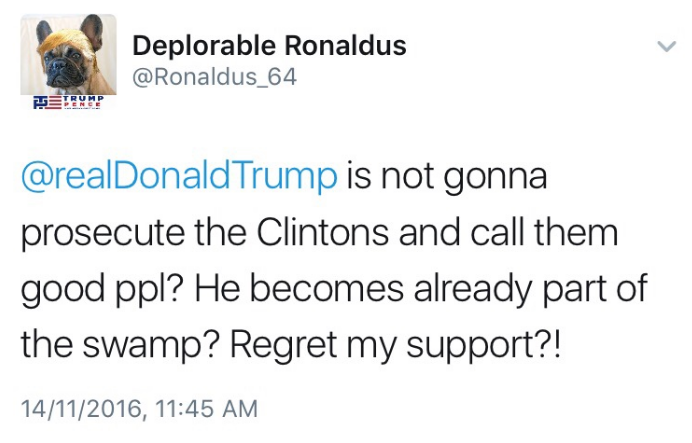 As scary as Trump seems for someone who cares about progressive values, watching the fracturing of his own base does give me hope that he won't be able to do too much damage. We'll see.