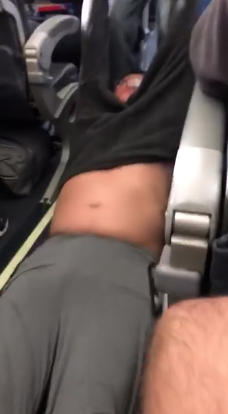 United flight 3144, Chicago to Louisville, was overbooked. To fix this problem, United asked its passengers if they could give up their seat to someone else and get on the next flight the next day. No one volunteered so several people were randomly selected to give up their seat.
One passenger, an Asian man who claims to be a doctor, refused to give up his seat since he had to work the next day. What happened next was terrifying:
@peopleteams @united @StoryArcCreativ @CNN @FoxNews pic.twitter.com/fxjcKZgweg

— Jayse D. Anspach (@JayseDavid) April 10, 2017
As you can see in the video, a man is forcibly removed from his seat by a cop and might have been knocked out. He didn't appear to be causing any trouble before he was assaulted (
you can see more detail in this new video
). A passenger on the flight, Jayne Anspache, was one of the people who recorded the incident. Anspache said:
"The doctor's face was slammed against an arm rest, causing serious bleeding from his mouth. It looked like he was knocked out, because he went limp and quiet and they dragged him out of the plane like a rag doll."
United is going to have a heck of a time explaining this. Why do you need to physically remove random people if you overbooked the flight? Shouldn't the passengers who already paid for their ticket be entitled to a seat? I feel bad for the doctor and I hope this is resolved soon.
UPDATE: Here is another video of the passenger, now bloody and disoriented, saying something that sounds like "just kill me" or "don't kill me."
PS: I now have a Patreon if you'd like to support my writing and podcasting.