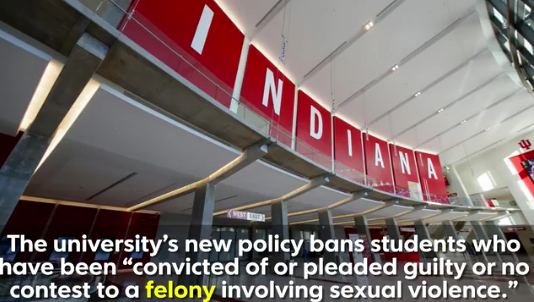 Indiana University-Bloomington will no longer accept students into their athletic programs if they have a history of sexual or domestic violence.
The school's Athletic Department released a new directive that states:
Any prospective student-athlete — whether a transfer student, incoming freshman, or other status — who has been convicted of or pled guilty or no contest to a felony involving sexual violence (as defined below), or has been found responsible for sexual violence by a formal institutional disciplinary action at any previous collegiate or secondary school (excluding limited discipline applied by a sports team or temporary disciplinary action during an investigation) shall not be eligible for athletically-related financial aid, practice or competition at Indiana University.
IU vice president and director of athletics Fred Glass
hopes this will spread to other universities:
"My hope is that we're leading in this area, and maybe others will follow with, maybe not the exact same policy, but one that fits their particular institutions."
Importantly, this ban is only for athletics and not admission to the school. So a known rapist can still attend the university, but doesn't have the privilege of playing sports.
This does seem like a step in the right direction. Student athletes should not be able to assault women and keep their privilege of playing a sport at a top school. Their position can be filled by someone who doesn't hurt women.
Universities still have a long way to go to fix their sexual assault problem, but at least schools are starting to address the issue on a policy level. Hopefully our culture can evolve enough where men learn how to not assault women anymore, but I fear that is going to be a long and difficult process.
PS: I now have a Patreon if you'd like to support my writing and podcasting.