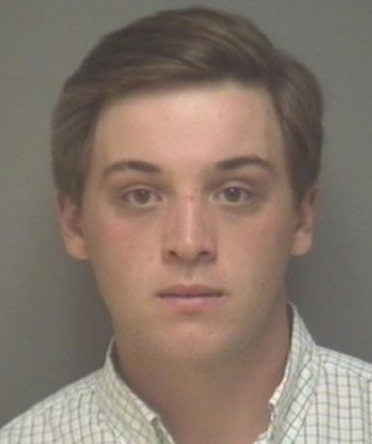 University of Virginia student Dalton Baril has been arrested for rape and forcible sodomy. Baril comes from a Republican Legacy Family, which means they have strong connections to the Republican Party and the university. His grandfather was former Governor John Dalton.
The report of the incident is difficult to read. Apparently Baril met a young woman at a bar and refused to take no for an answer.
Again the woman told him she did not intend to stay.

"Please don't make this bad," the woman told Baril, according to Pather.

But Baril restrained the woman and began to assault her, biting her lip and her breast, the prosecutor said. Pather said a nurse who later treated the woman found injuries to her vaginal area and bruising on her face.

Pather said that Baril sent a text message to the woman after the alleged assault, writing: "I'm sorry if I got overly excited."
Ugh. I feel so sorry for this young woman. You can visualize her trying to politely leave the situation in fear of making Baril angry, but it was already too late.
Thankfully, Baril did turn himself in and is going through the legal process for his alleged crime. The vast majority of rapists never spend a day in jail.
It's hard to not link Republicans with this when Fox News has fostered a culture of sexual harassment and the GOP candidate for President bragged about assaulting women. Rapists can certainly belong to any political ideology, but conservatives do seem to promote misogyny more than other groups.
PS: I now have a Patreon if you'd like to support my writing and podcasting.