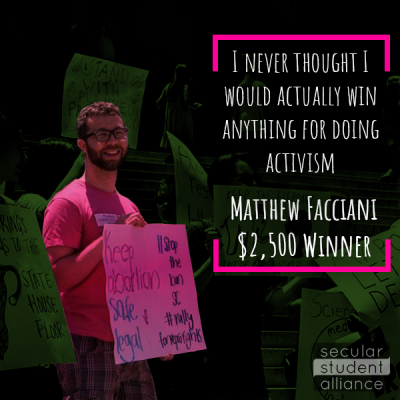 As I've written about before, I'm a big fan of the Secular Student Alliance. I joined my school's SSA when I was new to the atheist movement and it allowed me to meet some awesome people and not feel so lonely about being an atheist in the south. Additionally, because my SSA was so active with social justice work, it helped me get started in a variety of activist causes.
I've enjoyed going to a few of their conferences and I've been a member for years. Last year, I saw they were promoting a new scholarship for student activists and I was happy to share that on my blog to increase awareness. After learning grad students could apply as well, I decided to put my own name in the hat and see what happened.
And I actually won!
The scholarship helped me in many ways. I was able to actually donate money instead of only time to a few local progressive organizations such as Planned Parenthood, Women's Rights Empowerment Network, and the Sexual Trauma Services of the Midlands. But I still continued to volunteer with all of them as well. I also had money to start my podcast and do some traveling to give talks about science and social justice.
In addition to all that, I now had a little bit of financial security which really helped with my mental health. As a broke grad student, I always have to worry if I will have enough money to pay my bills. With the scholarship I didn't have to worry as much.
So I feel very thankful for the SSA for providing this opportunity and as I say in the graphic above, I never thought I would actually win money for activism. Here are the details from the scholarship from the SSA:
The Secular Student Alliance is offering five $2,500 and six $1,000 open scholarships for individual secular student activists.

○ Four $2,500 and four $1,000 scholarships are available for secular students
anywhere in the country.
○ One $1,000 scholarship is available exclusively for secular students attending a
Historically Black College or University.
○ One $2,500 and one $1,000 scholarship are available exclusively for secular high
school students in California. This is called the Simon-Strauss Scholarship.
● We are also hosting a scholarship provided by the Florida Humanist Association, who
have made two $1,000 scholarships for college students in Florida available.
● Any current SSA student member enrolled full-time in a United States university, college,or equivalent program (including graduate programs) is welcome to apply.
● Applications open August 1.
● Students must apply by before 11:59 p.m. (PST) on September 1, 2017.

● Applications are judged primarily based on the quality of a student's secular and intersectional activism. We don't just want lists of things they've participated in. We are looking for detailed explanations of their involvement, small or large, in any activity that spreads secular values and normalizes secular identity through structured organizing.

● All questions are available on the website so that they can prepare answers beforehand,
then copy and paste those into the form when they are ready to submit an application.
● All applications are judged blindly and independently by a three-person panel of SSA
staff and board members before arriving at a conclusion: Pete Zupan, Sam Farooqui,
and Sarah Henry.
PS: I now have a Patreon if you'd like to support my writing and podcasting.