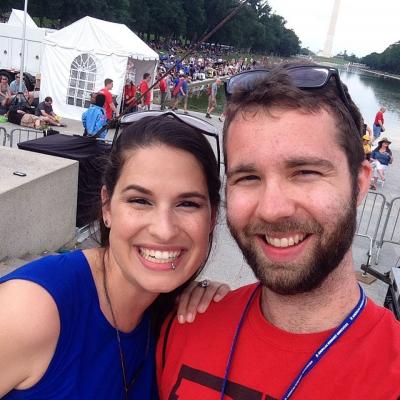 Cara Santa Maria is our guest on the latest episode of the According to Matthew podcast. I've been a fan of Cara's work in science communication for years and we finally got to meet at a skeptic conference we both spoke at in 2014. I was on Cara's podcast, Talk Nerdy, a couple years ago talking about the neuroscience of religion so it was awesome to have her come on my show as the guest this time!
Cara and I talked about a variety of subjects related to science communication. But first Cara shared her experience of starting off as a grad student in neuroscience and eventually switching into science communication. Getting into science communication is still a new area for people to get in as there isn't a whole lot of structure for doing it as a career. But, as Cara discusses, a lot of it seems to be about networking and just putting yourself out there!
Next Cara discusses her experience of being a woman in television production and compares that with women in science fields. There does seem to be some overlap, but some sciences (like psychology) have more women than men so they are much different than other sciences (like physics) that are still mostly men. Regardless of the field, men still tend to have more positions at the top compared to women, but this is slowly changing.
Cara and I then go into how to do better science communication. Cara discusses how we should never underestimate the intelligence of our audience, but never overestimate their vocabulary! I think that's a great quote and definitely something science communicators have to keep in mind. We also talk about what emotional and social factors may impact how people respond to scientific evidence as well.
Finally, Cara talks about some of her new projects including Sci Comm Camp, a weekend science communication workshop in Los Angeles! I'm happy to say that (with some crowd fundraising) I was able to make it to this year's camp!
This was an incredible episode and I'm glad I'm able to share it with all of you!
Listen to this episode on iTunes!
Listen to this episode on Libsyn!
Listen to this episode on YouTube!

PS: I now have a Patreon if you'd like to support my writing and podcasting.