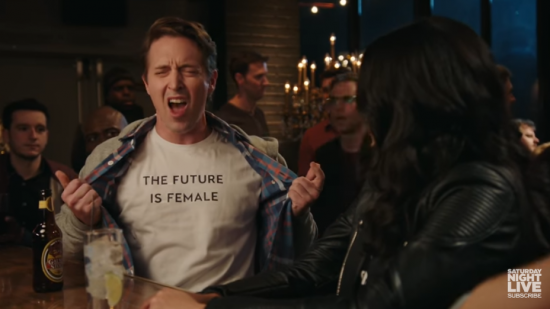 I jumped into activism when I was about 22 years old. I really didn't know what I was doing, but met a few awesome activists from being exposed to the atheist community and was inspired to help out. I've been involved in many different areas, but for awhile I was pretty focused on advocating gender equality out of just happenstance.
I saw a man give a talk about sexual violence prevention at my local SSA group and I was amazed to learn how prevalent sexual violence was nationwide and especially in South Carolina. So looking to get involved in activism, I started volunteering for my local rape crisis center. My main job was to speak to groups in the community about sexual assault awareness 101.
My first talk was actually at a church. I was nervous and gave a brief summary of the work my center did and how it's important for people to get involved and speak out about sexual violence. A woman found me after and told me how important it was for men to speak out about sexual violence. She said we need more men speaking out these issues. That inspired me to keep speaking out about them.
I kept volunteering with the center and spoke to all kinds of groups. The most intimidating group was speaking to several hundred incoming fraternity men in an auditorium. Again, I was asked to speak to these guys because I was a man myself. The female speakers at the center told me that men tend to be less defensive when another man is speaking to them and they may hear the message more.
Beyond the rape crisis center, I also volunteered for my local Planned Parenthood as a clinic greeter. And I also gave a workshop to teenagers discussing how they can get involved in activism. I shared the story of how I testified against an anti-abortion bill and what I learned about the legislative process. I would also volunteer and donate to another local women's rights organization in South Carolina (though I don't feel like linking them to this blog because they are nonpartisan and ya know, the whole Bible Belt thing).
So for a few years, I was pretty involved in gender equality activism. Another part of this activism was writing about feminist issues. I would blog about them sometimes, but even before I had my blog, I would post on Facebook a lot about gender issues. Here's where I made some mistakes.
I didn't do the best job amplifying other people's voices. Again, I was told that it's important to have men speak out about things, but I didn't realize I was actually taking up space sometimes. For example, if I want to make a point about gender equality and there are many women saying the same thing, it would be helpful to just share their words instead of making my own comment.
This is especially true for a personal Facebook page because at the time I had thousands of "friends" who were liberal minded people and had many liberal minded "friends" themselves. So basically, I was connected to this network of people who pretty much agreed with me on many gender issues. By sharing a post of my own about some general feminism 101 point, who I was I really helping? The focus was still on me as a white male talking about feminism in an already pro-social justice space. White men who talk about feminism often get cookies for saying the most basic things. While the social validation felt nice, it really wasn't helping very much.
I was called out on this a few times and I'd like to think I've gotten better over time. If you look at my public Facebook/Twitter page now, I regularly just share the words of women and people in groups I don't belong too. The men who follow my page still see me, a man, share feminist information, but the words are from women. I also regularly interview women on my podcast and my blog is always open to guest writers. As for as the thousands of liberal "friends" on my personal page? I now only use my personal page for personal stuff and don't use it to share political points that center the attention on me. I try to make a conscious effort of amplifying voices as best I can, though of course there will always be room for improvement.
All this said, I still think it is very important for men to talk about gender issues sometimes, but they must be mindful of the setting. So as I said above, me talking to frat guys about gender roles and sexual violence is in a space that can be helpful. Me bringing awareness to current political events related to social justice on this interfaith blog may be helpful too. However, men should try to make non-feminist spaces more feminist. 
As I mentioned above, a space like a personal FB page with many feminist liberals may not be super helpful. If you want to talk about social justice issues in your liberal bubble as a white man, it may be more helpful to share the words of others instead of always sharing your own. I don't think men should never talk about gender issues of course, but I do think they should be aware of taking up space in certain areas.
I didn't come to this conclusion myself. It took the past couple years of talking to many different women and listening to how I can best help out. I am very thankful for their guidance. I'm still involved with local activism to some degree, but with social media, I try to just share the words of others and amplify voices who have different lived experiences than myself. I won't ever do it perfectly, but I am always trying to learn from mistakes and improve and that's all we can ask of anyone.