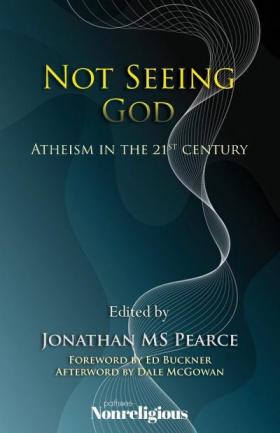 I have some exciting news to announce! Many nonreligious bloggers here on Patheos have written a book together and it is now officially published! The book is titled: Not Seeing God: Atheism in the 21st Century and you can get your copy today on Amazon!
Each of us contributed a chapter that is relevant to our unique interests and also related to atheism. So in this one book you get to read many perspectives from a diverse group of atheists! Over 20 of us wrote a chapter. Topics range from science, to politics, to cinema, to folklore! Here is what people are saying about our new book:
..".this collection has something for everyone to enjoy and ponder… [and] should be considered required reading for the well-informed non-theist." – Caleb Lack, author and Director of the Secular Therapy Project

"Anyone who has even a passing interest in religion or atheism has much–interesting things, important things, fun things–to learn from the writers included in this book." – Ed Buckner, Former President of American Atheists

"Not Seeing God is an excellent collection of some of the best skeptical writers working today. As one would expect from the writers at Patheos Nonreligious, each piece is well crafted, often humorous, occasionally moving, and always deeply insightful. The quality and diversity of writers and their approaches to not seeing god(s) makes this text a handy reference tool… this book has so much to offer that I suspect it'll spend a lot more time sitting on my desk than it will on a shelf." – David Fletcher, author of Myth Education: A Guide to Gods, Goddesses, and Other Supernatural Beings
So what did I write in my chapter? Well I wrote about the psychology and neuroscience of religious belief! For the past few years I've been giving talks on the subject at atheist conferences and to atheist groups. I basically summarize my talk and cover some of my favorite research in the sociology, psychology, and neuroscience of religiosity!  I've published in academic journals and books before, but this was the first time I have been published in print for a general audience. Here is a talk I gave at the Atheist Alliance of America conference in 2015 that covers some of what I write about in my chapter:
This book is a great collection of many wonderful atheist writers and activists. You get to learn from a variety of perspectives all in one book! Of course I'm biased, but Not Seeing God: Atheism in the 21st Century would make a great gift this holiday season! Both atheists and theists would enjoy this book!
PS: I now have a Patreon if you'd like to support my writing and podcasting.