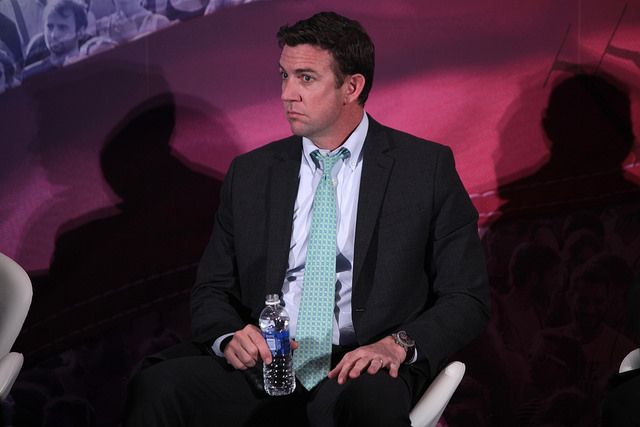 Duncan Hunter, Republican congressman and Trump supporter, was caught using campaign funds for some interesting expenses. According to Federal Election Commission filings, Duncan spent $1,302 on video games and $1,650 to a private evangelical Christian school in San Diego.
Apparently, Hunter's son took his father's campaign credit card to buy a large amount of online games. Hunter also said it's possible he gave his son the wrong card by accident. Either way, this doesn't look good for Duncan even if this was true. Being so careless with campaign money doesn't look much better than willingly spending it on video games.
Hunter's Chief of Staff, Joey Kasper, also had an explanation for the funds to the Christian school. Kasper called the funds a "donation," but the campaign treasurer thought it was tuition. On the official report the funds were listed as "PERSONAL EXPENSE-TO BE PAID BACK." But the superintendent of the Christian school said she didn't "recall" any donation from Hunter or his campaign.
Beyond video games and school, Hunter's campaign was also caught spending money on groceries and a vacation to Italy,
which Hunter threw his wife under the bus by saying she was responsible for most of the finances. 
While Kasper and Hunter maintain that these are innocent mistakes, they certainly do not look good. Hunter promises to fix it and is working with officials to do so. However, a campaign-finance attorney told The Daily Beast that they never saw such a mistake like this in 26 years of doing FEC work. Even as a layman like myself, it does seem pretty bad. Hunter is currently facing indictment.
This is all exacerbated by the fact that Trump is in all kinds of legal trouble at the moment. So anyone connected to him is going to be under additional scrutiny. It's possible that this all was a huge misunderstanding and an innocent mistake. But if that is true, then at best, Hunter and his staff look super incompetent. It's important that politicians are as transparent with campaign funds as possible.
PS: I now have a Patreon if you'd like to support my writing and podcasting.