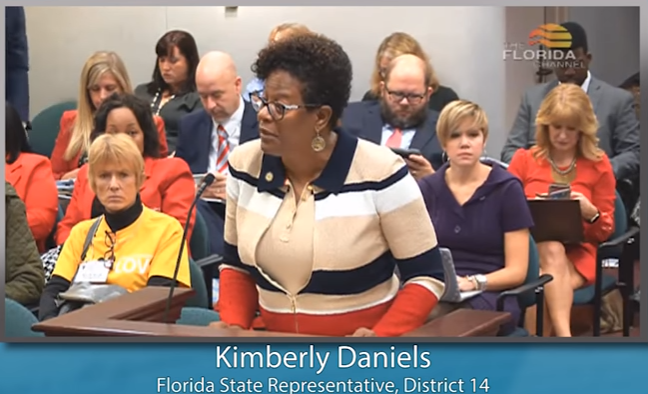 Kim Daniels (D) is state representative in Florida who gained infamy by stating "if it wasn't for slavery, I might be somewhere in Africa worshipping a tree." Daniels also was the sponsor of a Florida bill that would force every Florida school to display "In God We Trust" signs. Daniels clearly doesn't care about the separation of Church and State because she also has said she was elected so she is "able to write legislation so that His kingdom could come and manifest itself like never before."
Additionally, Daniels had some awful anti-Semitic comments when she said: "You can talk about the Holocaust, but the Jews own everything."
Wow.
What you might not know about Daniels is that she has been under regular investigation for misuse of finances.
In 2015, the Florida Elections Committee found probable cause that she used campaign funds to promote one of her religious books. After that, the Florida Ethics Commission again found probable cause that Daniels failed to accurately report her finances. Daniels did not report over a million dollars in assets from properties owned by her churches. She later reached a settlement for that before it went to court.
And now in 2018, she is being investigated again for failing to report her finances correctly.
The Florida Ethics Commission again found probable cause that Daniels did not accurately fill out several financial forms. If a settlement isn't reached, this could create an official hearing in front of an administrative law judge.
According to the financial statements she released in 2016, Kim Daniels has a net worth of around $600,000 makes about $200,000 a year from preaching.
So while we may have heard about Daniels from her outrageous soundbites, she also appears to be quite dodgy in reporting her finances. And yet, she continues to be an elected official in Florida while making an income of well over six figures. Amazing.
PS: I now have a Patreon if you'd like to support my writing and podcasting.