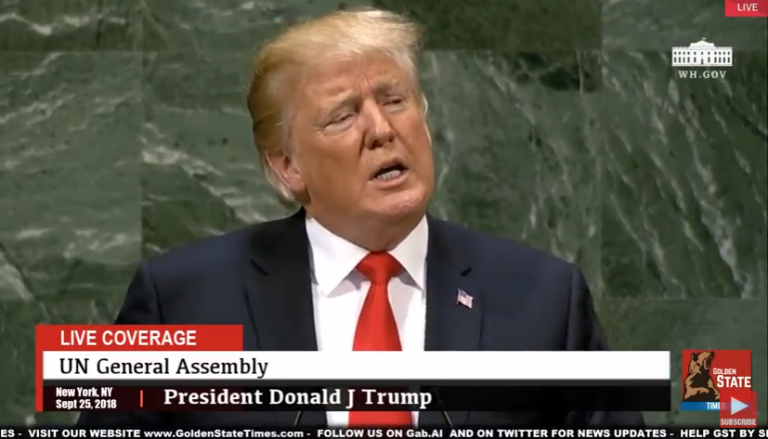 Donald Trump continues to grow his status as international laughing stock. During his speech in front of the United Nations General Assembly, he was seriously laughed at when he claimed his administration was one of the best ever in the history of the country. Here's a quick breakdown of what happened:
Trump: "My administration has accomplished more than almost any administration in the history of our country."

Audience laughs.

Trump: "American's…(notices laughter). So true!"

Audience laughter intensifiers.

Trump: "Didn't expect that reaction, but that's okay!"

Audience laughs again.

Trump continues to read from teleprompter.
Trump is used to speaking in front of his supporters that clap and applaud him mindlessly. But this time he was speaking in front of world leaders and his narcissistic lies didn't have a positive impact. Once they start laughing at him, it kind of looks like he was actually uncomfortable for a moment. I wonder if he was laughed at by a room full of world leaders before. It must have been pretty uncomfortable, even for him.
Trump tried to laugh along with the audience and make an awkward joke with the "didn't expect that reaction" part, but it honestly just looked worse. He looked like such a goof up there.
The larger point here is just how much of a laughing stock Trump's administration from an international perspective. I'm just tired of seeing my country's president being a huge joke. It's embarrassing. It's like the class clown in high school was voted class president just so he can tell fart jokes.
But yet, I'm reminded that there is still a sizable part of the country that stands behind this guy. And many more who tolerate his awful behavior and ignorance because he can help them achieve conservative goals.
I just wonder what the history books will write about this guy. He's all over the news now. But I don't think it will look so funny years later when we can see the devastating impact he had on America.
Watch the full speech below. The laughter happens shortly after Trump gets on stage.
PS: I now have a Patreon if you'd like to support my writing and podcasting.