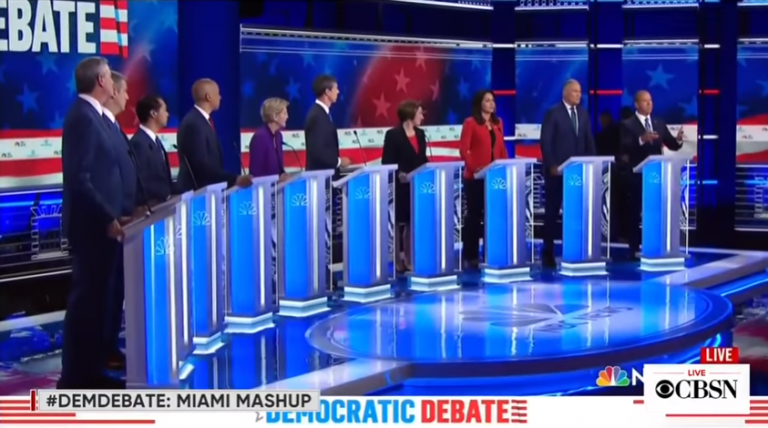 I know I haven't been blogging as much recently (finishing up my dissertation and diving into the academic job market!), but I did get to check out the first round of Democratic debates and wanted to share some thoughts. "Winners" and "losers" is so subjective, but it's an easy way to categorize things so I decided to briefly summarize my take on the debates.
Democratic Debate 1
Winners: Elizabeth Warren, Julian Castro
Elizabeth Warren is emerging as a great candidate. She's incredibly smart and has nuanced polices, but she also managed the debate stage well. Optics are unfortunately a major part of presidential campaigns. And it's nice to see a candidate with substance and also handle the spotlight well.
Julian Castro also appeared very strong in the debate and definitely showcased his knowledge of immigration policy.
Loser: Tim Ryan
Appearing to mistake who was responsible for 9/11 just looked really bad. His exchange with with Tulsi Gabbard made him look terrible.
Democratic Debate 2
Winners: Kamala Harris, Pete Buttigieg
Kamala Harris looked strong all throughout the debate, but her exchange with Joe Biden over his previous support of bussing segregation will probably be remembered for a long time. Harris only helped her campaign here.
I thought Mayor Pete had a solid performance as well. I was wondering if he would be more of a flash in the pan, but I imagine he will stick around awhile longer.
Losers: Marianne Williamson
marianne williamson was put on this earth solely as a role for tina fey to take on pic.twitter.com/DTFz5mKDbm

— katelyn (@noitskatelyn) June 28, 2019
Finally, as I wrote about before, I am a fan of Andrew Yang. So I wanted to address my thoughts on his performance. Unfortunately, he spoke the least amount compared to all the candidates and I don't think he got his points out well enough. I'm very glad he qualified for the next debate because how automation is impacting our economy needs to be discussed!