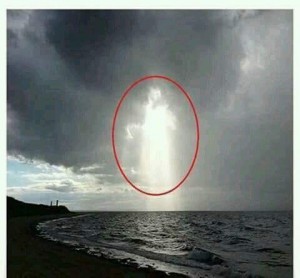 Saw this pic on Facebook, with the caption
do you see jesus? type "amen" if you see him
How many typed "amen"? I didn't go through and inspect every single response, but in the looking I did do — the most recent several hundred responses — every person typed "amen" or something even more goddy.
As of 9:45 p.m. today, the post got 125,177 comments, 310,000 likes, and almost 13,000 shares.
Oh, and Donald Trump just won the primaries in Connecticut, Delaware, Maryland, Pennsylvania and Rhode Island. It wasn't even close.
Gah.
On the plus side, I think Hillary is going to crush him. The comedic dynamic of the GOP primary is that the "joke" candidate is kicking the asses of the "serious" candidates. The GOP built this monster, and if he runs amuck and destroys the whole party — while they tear out their hair and scream to the heavens "What have I done!!?" — that's fine with me.
But still … that he's getting votes at all is a testament to the utter gullibility of some of you Earth people.
Hey, come to think of it, that light in the clouds looks a lot like Donald Trump! Someone alert Fox News!