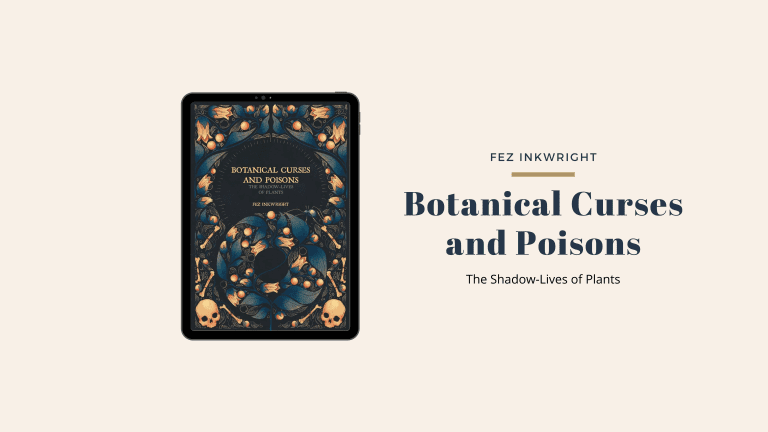 Botanical Curses and Poisons: The Shadow-Lives of Plants
Though I'm buried in writing of my own lately, I wanted to take a moment to share another book I've been reading in my down time: Botanical Curses and Poisons, The Shadow-Lives of Plants. This book is beyond beautiful, and really just looks like an ancient manuscript filled with terrible secrets. Though it may not be the best review of a book, this is one of those that you would buy even if it were blank inside just to fill your shelf with this absolutely magical eye-candy. But bonus? This book is pretty great so far! Look for a full review in the coming weeks, and in the meantime, here's a few words from the publisher, Liminal 11.
From the Publisher: Liminal 11
In both history and fiction, some of the most dramatic, notorious deaths have been through poisonings. Concealed and deliberate, it's a crime that requires advance planning and that for many centuries could go virtually undetected. And yet there is a fine line between healing and killing: the difference lies only in the dosage! In Botanical Curses and Poisons, Fez Inkwright returns to folkloric and historical archives to reveal the fascinating, untold stories behind a variety of lethal plants, witching herbs, and funghi. Going from A to Z, she covers everything from apple (think of the poisoned fruit in "Snow White") and the hallucinogenic angel's trumpet to laurel, which emits toxic fumes, to oleander (a deadly ornamental shrub), with each plant beautifully illustrated by the author herself. This enthralling treasury is packed with insight, lore, and the revealed mysteries of everyday flora—including the prevalence of poisoning in ancient Rome, its use in religion and magic, and common antidotes—making this perfect for gardeners, writers, folklorists, witches, and scientists alike!
'If you drink much from a bottle marked 'poison', it is almost certain to disagree with you, sooner or later.' – Lewis Carroll, Alice in Wonderland
About the Author
Fez Inkwright is an illustrator, author, and folklorist. Her greatest passions are botany, nature, primitive religions, and folklore, which flavor most of her work. For the past eight years she has produced work for children's books, hand-drawn maps, and tattoo design, and now spends her time indulging in conservation work and writing. She lives in Bristol, UK, with two cats and several hundred bees.
Available As:
Botanical Curses and Poisons is available as a beautiful hardcover and features metallic foiling on the cover, a ribbon bookmark, black-and-white illustrations on nearly every page, and a wealth of folklore, history and poetry about the deadly plants within. Truly, I can't say enough how absolutely gorgeous this book is to hold.