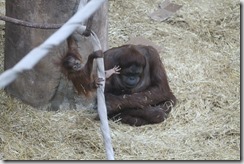 Yesterday was the Zoo-Loo-Au at the Fort Wayne Children's Zoo, and because my daughter and I (and a guest, which was her beau) are members, we got a free picnic dinner (amazingly delicious grilled hot dog and chips and A POPSICLE) and time to hang out in the zoo after hours when it's a lot less crowded.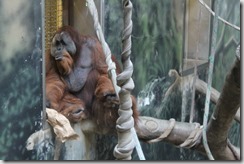 But the best part? When we went to the orangutan enclosure to see the new bebeh orangutan and watched the mother carry it around, and then, in a moment I wish, wish, wish I had caught on video to ensure my instant famousness as it would have gone viral, the mother went over to the large, disinterested, entirely-bored-looking male, disentangled the tiny thing from her fur and held it up to his face and HE KISSED IT!
A collective SQUEEEEEEEEE was uttered by EVERYONE watching. What a moment. LURVE!
Then she "reattached" the baby and swung around some more while everyone marveled in spasms of ecstasy and a feeling of oneness with all Animalia.