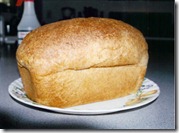 I've got about a dozen things going today, including making some bread. My all time favorite bread recipe book is the Laurel's Kitchen Bread Book, and I'm making the Loaf for Learning, which is the first recipe I ever learned for bread, and good enough for me for everyday. Honestly, it's been good enough for everyone I've ever given a loaf to for everyday, too. Even poor home made bread is so much better than store-bought that I' Of course, it's not been every day, it's been years, but I've got the breadmaking bug and so the time to act is now!
Time line:
9:45 am: Bread is in for first rising. It's a little cool out here, but it's warmer outside than in, so I put the bread out to rise.
11:15 am: Deflated and bread is back in the bowl for second rising.
11:50 am: Interrupted bread rising to put in fridge due to oven difficulties. Hmmm, wonder how this will work.
2:15 pm: Back in action. Oven is okay.
3:45 pm: Shaped and put in the pan for final proofing.
4:20 pm: In the oven! Yay!
4:45 pm: Out…just had a slice. Yum! Good.
I think I'll make another loaf tomorrow.
Related articles