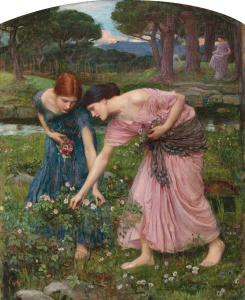 This morning it is raining, a perfect summer shower with soft rumblings of thunder here and there. 
Finally, I can write. 
June on a farm (or even a tiny homestead like mine) is not a time for leisure. It's not even time for indoor housekeeping. The laundry languishes, and my blog posts are late. 
Midsummer is the season of beautiful outdoor busy-ness. The garden needs weeded and late plantings of flowers and vegetables put in the ground. Farmers are making hay. There are wildflowers everywhere, and for the forager, it's time to hurry. Creamy white elderflowers must be plucked painstakingly from their nodding heads to make liqueur –within two hours after picking, lest they wilt and die. Starry yellow St. John's wort is traditionally picked today, on the feast of St. John the Baptist. It has been used in healing ointments and tinctures since the Middle Ages. Tiny, overpowering honeysuckle, sweet purple clover, fuzzy mullein leaves, and of course, wild pink roses: all have medicinal and culinary properties. And all of them are ready for harvest at the same time. 
It's impossible for one person or even a family to gather in all the bounty that God provides. He gives more than we could ever harvest. We must thin our choices like carrots, plucking out some flourishing potential in order to concentrate our energy on fewer tasks done better. This is painful. The flowers we leave in the field seem like a waste. The days are getting shorter again already. This day, this season, the smell of this particular honeysuckle — we can't get it back, and it makes us frantic. 
"Gather ye rosebuds while ye may,

And this same flower that smiles today

–Robert Herrick 
But that frantic, anxious feeling? That grasping desire to get it all done before we miss out and "forever tarry" like the virgins in Herrick's verse? That feeling is not of God.  
It's true that we must be diligent in the work God gives us to do, whether it's making hay or writing, raising children or elevating the Host. He creates each of us "for a purpose, a specific task for the church and humanity … If we do not accept this work, it will never be done." To let it all rot in the field would be a sin. 
It's just as true that we can never harvest the fullness of good fruits with which He presents us. There's just too much. Too many learning opportunities, worthwhile tasks, nourishing devotions. We must thin out, pare down, leave some good things to go to seed for another season or another soul. And then, we must practice being at peace with the potential that is out of our grasp. For our own sake, we must renounce the desire to do it all and cling to God who knows our reasons for existence better than we do. Only then will we find true humility and contentment.