Honoring the Rev. Martin Luther King, Jr.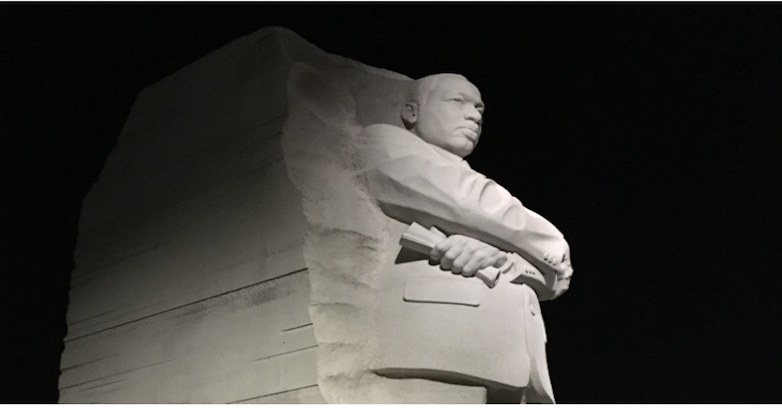 The opportunities to be of service this weekend are abundant. Perhaps it's a factor of the two main communities around which my days revolve. My independent school community and my interfaith community. But this weekend I need to make decisions about where to honor the life of the Rev. Dr. Martin Luther King, Jr. Which community gathering to join to make sandwiches for the shelter. Which interfaith service to attend to raise the roof in song. Which group to join to listen to the I Have a Dream speech reenacted. I actually find myself searching through online bulletins to see which services will have Lift Every Voice and Sing and which will choose Precious Lord, Take My Hand. If I'm lucky, I find one having both. The message is clear to our students and our congregations, however. Monday is a day on, not a day off. 
The expectation is that you will be somewhere doing something with someone you have never met before. Every year it dawns on me once again, being of service, it's about being together. Being in the same space with people of different traditions, different races, different needs, different everything. It's not so much about the casserole-making. It's about overcoming our fear of being with people we don't know. And finding a space where we can share hope together. 
Building a Community of Hope
 Nothing feels quite as awkward as entering the house of faith of another tradition and not understanding what to do. Are you supposed to stand now? Or kneel? When you can't follow the transliteration of the prayers fast enough to keep up – it's uncomfortable. I think it is the main thing that keeps us out of the houses of worship of other traditions. We don't know what to expect, and we don't want to stand out for not knowing what to do. But what if we could overcome that awkwardness? Focus on being together. Reach over to someone who doesn't know what page of the prayer book we're on. Might we be able to build a stronger community of hope, if we could embrace one another's ways of being. Ways of praying. Ways of hurting and healing. Ways of pointing forward in the midst of feeling lost, forgotten, and marginalized.
Hope Found in Empathy
Barack Obama in his book, The Audacity of Hope, recognizes that the key to moving forward as a society is in seeing the other, in their struggles and in their dreams. 
 "I believe a stronger sense of empathy would tilt the balance of our current politics in favor of those people who are struggling in this society. After all if they are like us, then their struggles are our own. If we fail to help we diminish ourselves."
Empathy – suffering together. Feeling one another's pain. The hope for all of us lies in our ability to embrace one another. And we can't do that simply by reading the headlines. Or sending a donation to an organization that needs our support. Empathy comes from embracing the other.  Sitting at table together. Singing together. Praying together, even in languages we don't understand. 
Hope in the Service of Seeing One Another
In the Quaker school where I teach, we uphold one of the Quaker testimonies each year. The SPICES: Simplicity, Peace, Integrity, Community, Equity/Equality, Stewardship/Service.
This year our focus is on the testimony of Community, although they all certainly come into play during our MLK Day celebrations. But this year, alongside our Quaker testimonies, we are also centering our awareness in the Zulu greeting Sawubona. "I see you, you are important to me, and I value you." If we can see one another, we will not be diminished. It is an act of reciprocity. It is not about one person helping another we have deemed of greater need. But in seeing one another, valuing and embracing one another. In this lies our hope.  
Being of Service by Being in Relationship
So how do we decide what to do to honor the Rev. Dr. Martin Luther King, Jr. this weekend? How can we address his "most persistent and urgent question" 
"What are you doing for others?" 
Will we make sandwiches or deliver toiletries to a shelter? Or can we do this by being together, seeing one another. Letting someone know they are important to us. That we value them. We used to steer students away from saying that they "do service" because it makes them feel good. Trying to bring depth to their awareness that the act of service is not about us feeling good about ourselves for what we did for someone else. But I've changed my mind on that. It is about us feeling good. It's about us feeling good because we have stepped beyond our fear of meeting someone who in some ways might be different from us. It's about us feeling good in relationship with someone else. 
Surely when we put relationship-building first, we hold hope in the headline. We shall overcome our fear, our reluctance, our prejudice, our silos. And then we can move forward and begin the work of building and creating and dreaming. A world in which all are seen, and all are important, and all are valued.