As a gentle reminder, I am a pediatric specialty therapist with a variety of credentialing and specialties.  I serve children with learning, developmental, and cognitive disabilities.  You can read more about my profession on my do-it-yourself wixsite after this paragraph.  I addition to serving children in therapy sessions through my private practice, I also serve as the Catholic ministry lead for the largest ecumenical religious trauma recovery group in the world for LBGTQIA+ children and their families.  I help Catholic families of LBGTQIA+ and neurodiverse children survive Church rejection and religious trauma related to rejection, for there are many life, death, and mental health issues related to this type of trauma recovery which I describe more in my article at the end.
https://julienicholsblog.wixsite.com/mysite
In the structure of this blog, I will extract five quotes from my latest article and tell you about "The Real Gay Agenda."  In order to better understand this, please read the quotes below and then click on the link at the end to read my 1500-word article written with the editing help from Father James Martin, the most popular yet hated worldwide Pope-endorsed Catholic LBGTQIA+ minister in the world.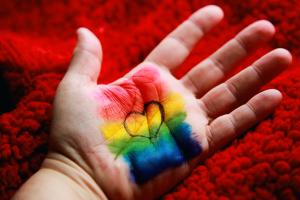 Quote One
Two years ago, I discovered something I did not know— many Christian families have been forced to leave their churches because their children came out as gay or transgender. Through my work with FreedHearts, an LGBTQ-affirming nonprofit that aims to spread a "message of love, inclusion [and] belonging" between LGBTQ people and Christian churches, I have met many families who left their churches because they had to choose between upholding their LGBTQ child's right-to-life and remaining in their parish.
Quote Two
There is an overlap between the disability world and the LGBTQ community. The transgender experience, for example, is anywhere from three to nine times more prevalent in families with neurodiverse or autistic children, such as in my family. According to The Trevor Project, "the prevalence of autism among individuals with gender dysphoria is estimated" as somewhere between six and 25 percent.
Quote Three
"According to a 2019 study, when one parent fully supports their LGBTQ child, the rate of suicide attempts drop dramatically, by 40 percent."
Quote Four
"The Hogg Foundation for Mental Health states that every word and action of love, affirmation or acceptance can between the difference life and death for LGBTQ people."
Quote Five
Overall, the church must move to reconcile with the LGBTQ community and provide safe and affirming pastoral ministry that aligns with current science.  Anything else will continue to endanger and disrupt the lives of LGBTQ people and their families.
Link to Article
https://outreach.faith/2022/09/how-can-the-church-repair-its-relationship-with-neurodiverse-people-and-the-lgbtq-community/