As I sat in on the Ash Wednesday service with my family last night, I did something many Catholic parents of LGBTQIA+ children do.  We question and hyper-analyze if what we are doing is right and good in God's eyes and in the eyes of the Church.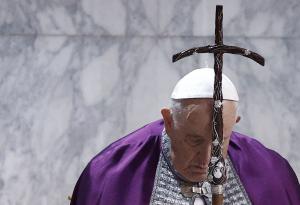 A recent European Bishop
named
Archbishop Giraud praised Pope Francis for his growing awareness for justice for LGBGTIQ+ people and their families. Here is a quote from New Ways LGBTQ+ Catholic ministry.  "For too long, the focus when it came to homosexuality was on the sexual ethics tradition. Francis instead has focused on the church's social justice tradition. His primary lens for approaching homosexuality is about the discrimination, exclusion, and violence that queer people experience daily.
Many Catholics in the past few decades have made this shift to a social justice lens, and as a result, they have done just as the archbishop suggests: broken the silence, struggled against homophobia, and taken the side of LGBTQ+ people. It is good to see Pope Francis and like-minded church leaders position themselves there too."

I was told in LGBTQ+ Catholic Dignity last week that the Catholic queer community loves Pope Francis. They recognize that trads have tried to hide truth about life and death issues of queer people, but the truth slowly leaked out to Pope Francis throughout his papacy. The approach to affirmation lies above, that Catholics who love and accept LGBTQIA+ people must lean on the church's social justice tradition to stay Catholic and also reach affirmation. As a practitioner, I take it a step further to include the Sanctity of Life and the Dignity of the Human Person since every word and action are life and death. These are also the top two tiers of Catholic Social Teaching.
If you know of Catholic parents of LGBTQIA+ kids who are having trouble fully-affirming and accepting their kids according to every major medical association in the world, tell them to lean on the social justice teachings/Catholic Social Teaching because it's a matter of life and death.   Sexual ethics are a framework in which to live by, not a weapon to harm and kill.
"But Julie?, what about Church Teaching?"
Catholic parents of LBGTQIA+ children who are many times also Neurodiverse, here is some good Catholic teaching for those trads who want to use sexual doctrine as a weapon to destroy the LBGTQIA+ people and families.  If you want to get technical with Catholic Teaching, by advocating for LBGTQIA + inclusion, we are following Catholic Social Teaching which honors the Sanctity of life and Dignity of the Human Person, The Call to Family, Community, and Participation by keeping the family intact, which includes the LBGTQIA person.  I am following Pope Francis's directive in his Encyclical Amoris Lattetita to give appropriate pastoral care to the LBGTQIA person by including him/her because it's life and death, and Jesus's 2nd greatest commandment to love our neighbor as ourselves.
Trads can call me a Cafeteria Catholic all they want, but by excluding and rejecting the LBGTQIA person, that is destroying the person and their family to which they belong, and that's less Catholic teaching than allowing the LBGTQIA+ person to be a practicing homosexual in a life-long committed relationship included within the context of the larger family.  Most are unable to live a life of celibacy without incurring lasting psychological damage or even death. Debating someone's right-to-life is not negotiable.  The sanctity of life and human dignity always comes first in the Catholic Church. God doesn't make junk, nor does He make mistakes.